Polyboard manages bulk manufacture of cabinetry without a problem, it's even got a Catalogue Mode to allow you to output the combined manufacturing files for multiple units in one go. That's a great way to ensure your parts are cut or nested with exceptionally low material waste and as efficiently as possible.
However, Polyboard really comes into its own with custom cabinetry. With it's parametric foundations, you don't draw your project like a typical CAD package, you size and resize your models and drop in your preferred hardware, edging and other assembly details.
We've just heard back from S.A.S. Rouanet, one of our customers who 2 years ago converted to a CNC and software production process for their fitted cabinetry work, across both retail and residential sectors.
They set up Polyboard Pro PP with the CNC Biesse Skipper V31, a boring machine with a compact footprint that can rapidly process each part in turn.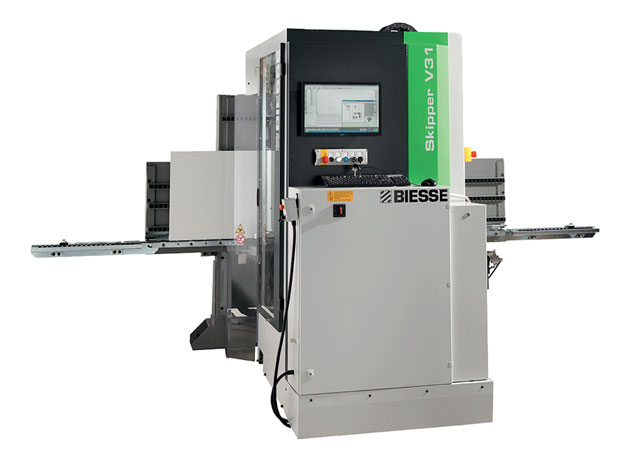 The Pro PP version of our cabinet design software includes all design capabilities plus a range of post processors that output the files your CNC software needs. In this case, we used the BiesseWorks post processor to output the required CIX files.
Arnaud Rouanet, who owns the company, has sent in some great images of some of their custom projects. They feature some nice functionality within Polyboard too…
Wine cellar
As well as applying standard shelves and uprights, Polyboard has a free division feature allowing you to set a part at any angle you wish, left to right, front to back, or a combination of both.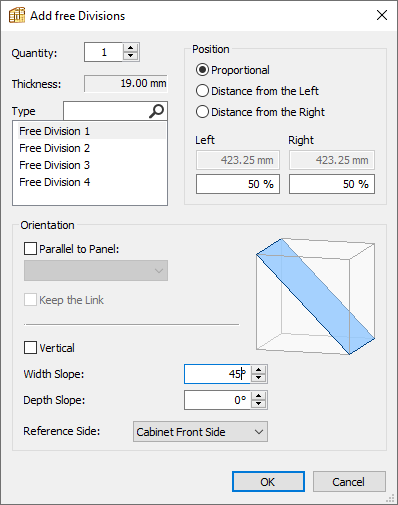 This wine storage unit was built using Free Divisions.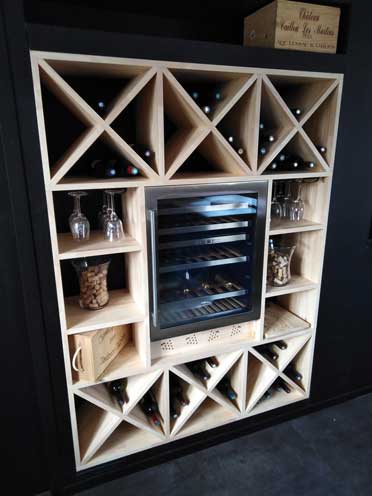 The part dimensions and all cut angles on the part edges are automatically calculated, 100% accurately.
Home office
Polyboard's inner casing tool has been used to create some of the flexible cabinet designs on show here.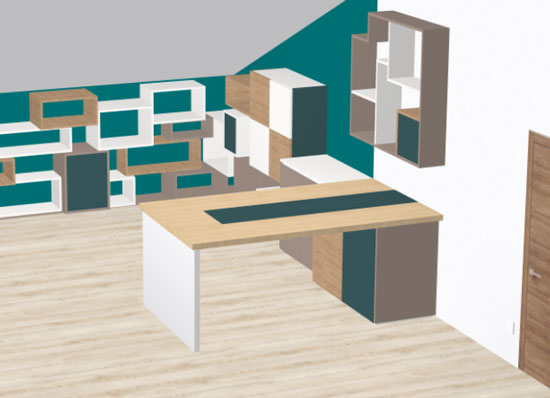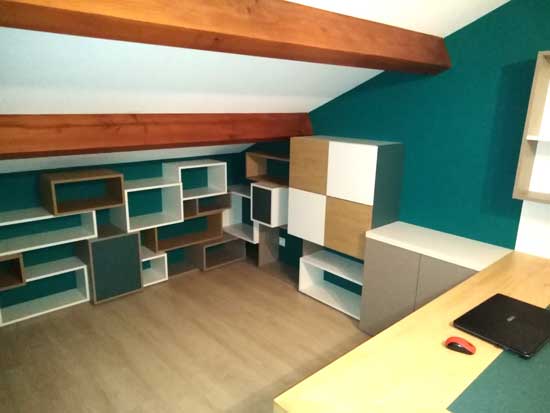 Videos on both free divisions and inner casings can be found on the Polyboard shelves and uprights tutorial page.
TV and fitted shelving unit
You can see a photograph of the project in situ at the top of this article.
Here's the unit in Polyboard's Project Mode.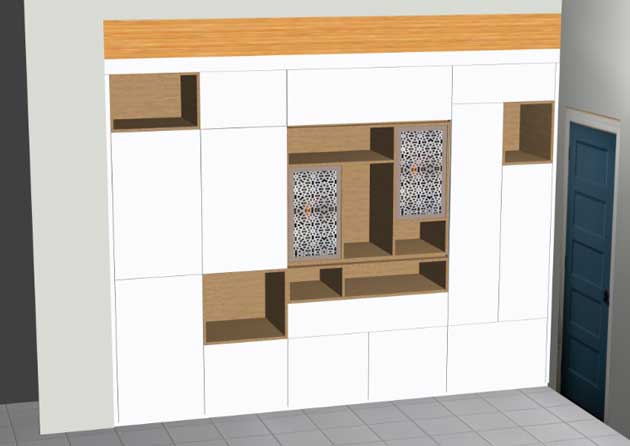 We love the contemporary feel to this project.
Design and manufacture by hand would be a challenge here…it can be tricky to ensure every part has been calculated correctly.
In Polyboard, as long as your room dimensions are accurate, there is little to worry about. You know the unit will fit perfectly.
And if your customer has a last minute change to accommodate, just swap in doors for shelves or drawers for doors. Or resize the overall dimensions.
In a few seconds you've got a new design with all parts updated and instant access to the revised cut list, plans, prices and CNC output.
Arnaud had this to say about the benefits…
I moved from traditional manufacturing where I did everything by hand to CNC based production with the purchase of a Biesse machine and Polyboard Pro PP software.

This was a totally different world and I don't regret my investment.
Polyboard works very well with my machine, I can complete a kitchen project twice as fast now and everything is completely accurate. All I have to do is assemble!

Polyboard also allows you to create more original projects. I'll send you some photos of what we've achieved.
Arnaud Rouanet, owner of SAS Rouanet
We would like to thank Arnaud for taking the time out of his busy schedule to share his experience with our community of software users.
Try out Polyboard for yourself
Register for free here to download and test Polyboard.
If you'd like to see what Polyboard can offer you, contact us here and we can arrange an online demonstration.