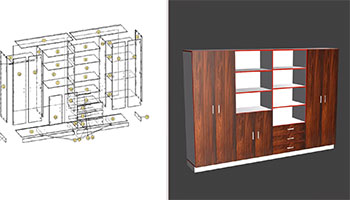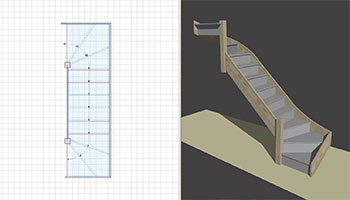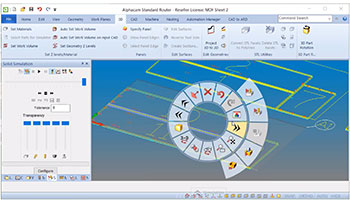 Our software integrates with pretty much all CAM software and CNCs.
That includes Alphacam, one of the best known and powerful CAM solutions available.
PolyBoard, StairDesigner, OptiCut and OptiNest export clean well organised DXF files that can be sent directly to Alphacam to be tool pathed manually or automatically using an import template.
Alphacam then creates the CNC machine files to cut and machine all your parts.
Alphacam also includes a powerful nesting suite if you require this configuration for a nesting CNC, and works with 4- and 5-axis CNCs as well as 3-axis.
If you're running Alphacam on your CNC, here are two videos that show you how easy it is to take the PolyBoard or StairDesigner output and automate the tool path creation.
The videos start with a project design completed in either PolyBoard for furniture or StairDesigner.
The part by part DXF files from the design are loaded into Alphacam's Standard Router and pre-processed ready for the Automation Manager suite. Machining styles are automatically assigned to each of the drawing layers including tool size and depth of cut.
Once complete, the parts are nested onto sheets defined within the materials libraries.
Based on these specifications, Alphacam writes all the machine code (GCode) which can be reviewed by running a simulation of the machining of the sheet. Alphacam will also write the reports and labels for the sheet and parts.
Using PolyBoard with Alphacam
Using StairDesigner with Alphacam
Thank you to our partners at Alphacam for their collaboration in creating these videos
The integration shown in these videos uses macros that have been set up by the Alphacam team. These include parameters for tooling depth for example.
These aren't generic macros for use in all cases, you would need to create one that mirrored your production methods. If you aren't familiar with the process of setting up macros, please contact Alphacam support for help with this.
The alternative method to macros is to set up machining styles directly in the Automation Manager.
Again, please contact Alphacam if you need help with this.
Test our sample files with Alphacam
Manufacturing sample files – PolyBoard
Manufacturing sample files – StairDesigner
The files you need to load into Alphacam are the part by part DXF files.
Please note, to complete the set up our software's DXF output parameters will need to be configured to match your machine. However, you will still be able to load the DXF files into Alphacam.
We can also set up an online screen sharing session to confirm the compatibility of PolyBoard or StairDesigner with Alphacam and your machine. This is a great opportunity to discuss the full production process from hardware settings to nesting/cutting optimisation to tooling.
Contact us to request a compatibility test
For more information on our Design Software > CAM > CNC integrations click below for details or contact us to discuss your requirements:
PolyBoard / CAM / CNC integrations