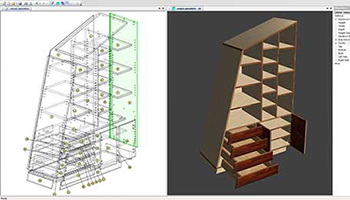 Design in PolyBoard then generate bSolid or BiesseWorks .cid/.cix files with all hardware and other machining details already in place.
Ultra fast and reliable manufacturing for your CNC.
The perfect solution.
In one hour we can now draw a complete kitchen project using our preset library of units and worktops. In the workshop, the panels are machined in 2-3 hours and there are no more errors. As well as that, PolyBoard integrates perfectly with OptiCut…

Gauthier Simard, Simard Joinery
(PolyBoard Pro PP + OptiCut + Biesse CNCs)
Effortless manufacturing
PolyBoard Pro PP comes with a built in post processor for Biesse CNC machines.
This means PolyBoard itself will directly generate .cid/.cix files. Load these into BiesseWorks or bSolid, then create the machine code for your CNC. The process is almost completely automated and so is very fast and cuts out human error.
Click of a button generation of all the files you need to machine your parts.
Compatible with both pod and rail and nesting machining centres, and highly configurable to your specific production methods. For example, you can adjust settings for rotation/feed speeds, tool numbers and drill banks, all inside PolyBoard.
Please note that if you are using a Biesse Brema CNC with auto dowel insertion, PolyBoard will also run the dowel insertion but you'll need to use our TCN post processor and not CID/CIX. Please contact us directly for more details.
Give production an extra boost
If you've got a point to point CNC, you'll need to cut your parts first. PolyBoard integrates seamlessly with our cutting optimisation software OptiCut.
This will output a cutting map from PolyBoard cut list to minimise cutting time and material waste. You can either manually cut based on OptiCut's printed cutting maps or send the entire cutting sequence in a post processor file to a CNC saw.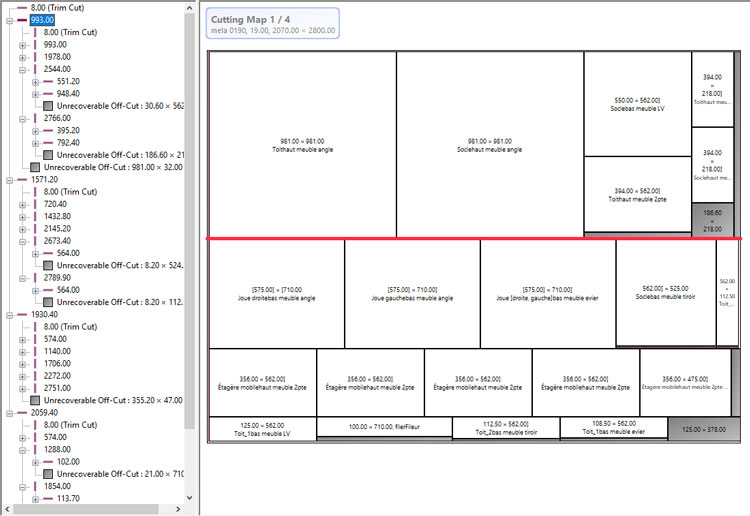 If you are nesting and your CAM software doesn't offer the features you need, consider adding OptiNest which again will work very well with PolyBoard.
It comes with a powerful nesting algorithm that you can fine tune to your particular requirements, plus labelling with bar codes ordered in the sequence of the nested parts as well as sheet stock management with re-integration of off cuts from previous nests.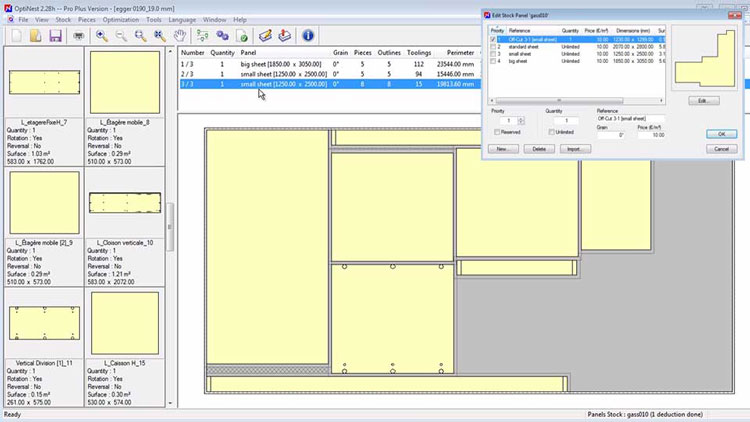 More information comparing nesting with 'point to point'
Sample files to test with your machine
Download the folder below to view an example PolyBoard project which includes the PolyBoard file, cutting list and plans and part by part CNC files.
We've included .cix files for bSolid and .cid files for BiesseWorks.
Note: although you will be able to load the CNC files into bSolid and BiesseWorks, they won't run your machine yet. You would need to configure the post processor in PolyBoard to match the tool path numbers/names your CNC uses.
Need a bit of extra help to get started?
PolyBoard offers an excellent integration with Biesse machines, we have lots of customers using this set up. If you would like help with the integration, we can help you with that.
PolyBoard includes a comprehensive hardware library so you can concentrate on design then drop in the hardware you need and get to the manufacturing stage as quickly as possible.
A large range of assembly details and hardware are ready to use pre-configured in our libraries. These can be customised to match your requirements if necessary or you can use our Library Set Up Service where we'll set everything up for you.
We also offer on site and online training packs if required, plus Premium Support as standard with all orders.
Contact us to discuss the best option for you and to arrange a PolyBoard demo