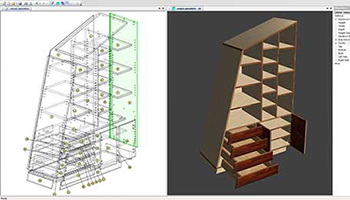 Design in PolyBoard then output woodWOP's native .mpr files with all hardware and assembly details automatically included.
The fastest and most reliable way to generate the code to run your CNC.
It couldn't be easier.
I can honestly say that PolyBoard and OptiCut have divided our production time by at least 5 while making it possible to create price offers and 3D presentations in a couple of hours instead of days.

Sylvain Roucher, HR Design
(PolyBoard Pro PP + OptiCut + Homag CNC)
Effortless production
PolyBoard Pro PP comes with a built in post processor for a range of CNC manufacturers. That includes Homag / Weeke.
This means PolyBoard itself will generate woodWOP's native .mpr files. Load these into woodWop to generate the machine code to run your CNC. This automated integration is extremely fast and error free.
As soon as you've designed your project in PolyBoard, with the click of a button you can generate all the files you need to machine your parts.
Our post processor works with both flat bed and vertical machining centres, and is highly configurable to your specific production methods.
All variables as well as tool numbers, rotation and feed speeds, plus drill banks, can be set up directly in PolyBoard.
If your machine has auto dowel insertion, PolyBoard will export the specific file to run this extension.
Manufacture even more efficiently…
Do you have a pod and rail/point to point CNC? If so, you will need to cut your parts before machining. Consider our cutting optimisation software OptiCut, which combines perfectly with PolyBoard.
OptiCut takes PolyBoard's cut list and generates an optimised cutting sequence and map. Material wasted and cut time is reduced to a minimum. It works with any manual saw but also comes with post processors to work with a CNC saw.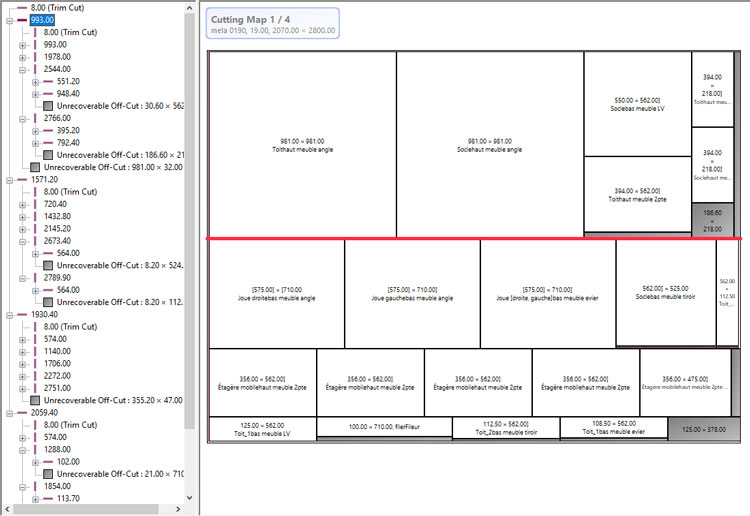 If you are using a nesting CNC and your CAM software does not come with a robust nesting feature, you can include OptiNest which again works seamlessly with PolyBoard.
At its core, OptiNest has a very powerful nesting function in terms of both speed and waste management. It also offers labels and stock/off cut management for a truly optimised workflow.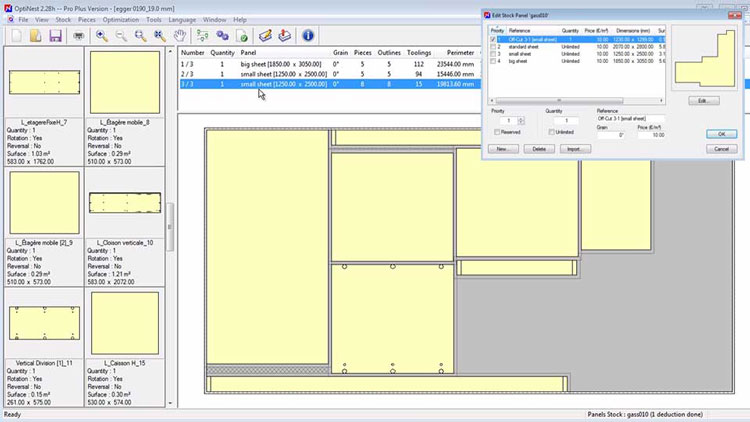 More details on point to point versus nesting
Sample projects for testing
The download below includes PolyBoard project files, cut lists and plans. It also includes part by part MPR files ready to load into woodWOP.
Please note, you'll be able to load the MPR files into woodWOP, but you won't be able to run the machining fully until PolyBoard's post processor settings are adjusted to match the tool numbers and settings you use on your machine.
Help to get started
PolyBoard works very well with Homag CNCs, we have lots of customers using this configuration. If you would like help with the set up, just let us know.
PolyBoard comes with an extensive library of hardware and assembly details so all you need to do is design. This information is applied automatically to your project ready for machining.
You can use our out-of-the box library or customise it to your own needs, or order our Library Set Up Service where we do this for you.
You may also be interested in on site and online PolyBoard training packs to make sure you're using our software to its full potential.
Contact us to discuss your options and to arrange a Polyboard demo