PolyBoard, StairDesigner, OptiCut and OptiNest
Please read before you start!
Our license transfer and reactivation service is reserved exclusively for Premium Support subscribers, an offer for which is included with your order
This advice and service applies to holders of the most recent major version; contact us for advice on previous versions
1. Back up your settings
2. Uninstall the software from the old computer
Important! Do not uninstall the software as you normally would with Windows
Go to the Start menu > All applications list
Go to Boole & Partners > Uninstall name of software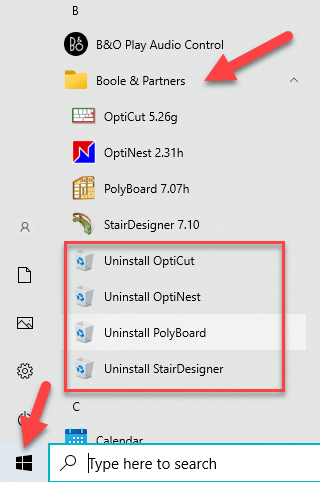 This will generate an Uninstall Code as a .txt file, saved to your desktop
3. Install the free/demo version on the new computer
Download the latest version of the software from our website and install on your new computer (contact us for a link if you are installing an old version of the software)
Export the User Code as a .txt file to your desktop
See How do I activate the software? for details
4. Send us your 2 codes
Please email us your Uninstall Code and your new User Code
We will process these and send you back an Activation Code for your new computer
Remember to restore your settings if required
Problems uninstalling?
Unable to output the Uninstall Code?
You may be unable to generate an Uninstall Code due to a hard drive failure for example.
If so, once the computer is repaired install the free/demo version and send us the User Code from this computer as well as the new computer.
No Uninstall.exe file present?
This file may have been incorrectly identified by your computer's antivirus software as malicious. We have seen examples of this with old versions of our software used in conjunction with recent antivirus software updates.
You should be able to restore this file from within your antivirus software settings. On occasions it will also be necessary to temporarily disable your antivirus.
Please contact us if you need further assistance.
VCarve Pro
Uninstall VCarve using the standard Windows Apps & features settings.
Then log in to your Vectric customer portal to download and install the software again.
Please also note our terms and conditions for further information.