Designing furniture is a dream career for many artisans who love creating something beautiful and useful from nothing but wood.
There are many different ways to learn the craft; a course offered by your local institute of higher education, an apprenticeship from a furniture designer that you admire, or even teaching yourself through a mixture of self-guided programmes, books, and your own creative energy. Soon you'll find yourself moving from shelves to coffee tables to entire kitchens.
Furniture design is, however, a very competitive field so in order to make it your career, you'll need to give it your all, be constantly learning and improving, and getting your name out there. This article will show you how to access one of the most important tools you'll ever need, using the Polyboard furniture design software package.
Importantly, and if you're new to furniture design and have a tight budget, we'll show you how to use all the design features of Polyboard without buying it.
Building a Design Portfolio
One great way to get your work recognised is to build a portfolio that shows the breadth of your furniture design skills.
However, you shouldn't just stick to photos of the finished product. Remember to add in your initial sketches, contextual notes, and your 2D/3D designs, which are easy to produce with Polyboard, in order to take people on a journey.
By showing how you got to the final piece, your portfolio will demonstrate your unique creative process and make you stand out.
Continuing to Learn
As trends change, the furniture designer must adapt in order to stay in demand. For this reason, you need to attend trade shows, subscribe to trade magazines or websites and network with other professionals.
Polyboard can't predict what the next big thing in furniture design is, but we can help you to create it, through features like our Quick Design Libraries, which contain the biggest names in woodworking hardware and which allow you to drag and drop elements into place and edit them as necessary.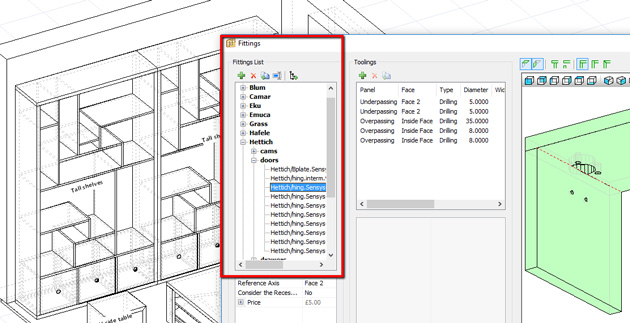 We also offer impeccable technical support options from the hundreds of videos, models, and guides available on our website to 1-2-1 TeamViewer sessions to a technical support forum where you can talk to other professionals about your design because we are dedicated to helping you succeed however we can.
Succeeding in Furniture Design
While the love of furniture design should be what draws you to the business, a lack of steady income should not be a reason to quit.
Polyboard will help to make you money in the long term by:
Helping you get more clients (as a result of the 2D and 3D models and the additional learning opportunities)
Saving you time (and therefore money) on designing and editing
Automatically calculating changes to materials (minimising on waste and providing accurate costings for your client)
Not levying hidden charges on support options or upgrades (unlike some other firms)
Want to use Polyboard for free?
Our software is cheaper than other similar professional furniture design software available.
However, you can instead use the free version in a number of ways as it has full design capabilities, the only thing it doesn't do is output the cut list and plans to build your projects.
At a basic level, the free version will give you great 3D presentations for clients, and costs to get accurate quotes out too. You will even be able to edit a design with your client if you like. Combined these will give you a competitive edge to close the sale.
If you want to use free version and get the cut list and plans for your project, but you don't want to buy Polyboard, you can sign up for Premium Support and we'll process those for you. So you only pay for the output once you've got a job.
A final option is to link up with one of our Approved Suppliers. Design with the free version of Polyboard, send one of our suppliers your finished design and they'll send you back the parts ready to assemble. You only pay for the parts not to use the software.
We've created those 2 options using the free version with new businesses in mind and don't involve any significant investment in the software.
So, if you're serious about becoming a furniture designer, why not try Polyboard today?