Morel and Sons is a small family stair building business that is about an hours drive from my workshop.
They have a big CNC machine and make traditional stairs to very high standards. I've often asked them to machine parts for me and have always been very satisfied with the quality of the parts they delivered.
Although they make great stairs they had very little experience in making curved parts.
Last year Jean Marc Morel the director contacted me to ask my advice on how to build a curved staircase to replace a stair that had been damaged in a fire.
I suggested that he try out my horizontal laminated technique and I gave him a couple of links to my website and videos.
I completely forgot about the project until I went back to see them earlier on this year. Chatting to Jean Marc he said casually that he had made the curved stair and showed me the photos.
This was the first time that Jean Marc and his team had used this technique and using only the information on our web site he has made an amazing job of a very complex project.
This is a great example of how simple and effective this technique is for making complex shaped stairs.
Here's a quick description of how the project went for them…
This is the burnt stair to be replaced:
Here are the horizontal laminates glued up in the workshop: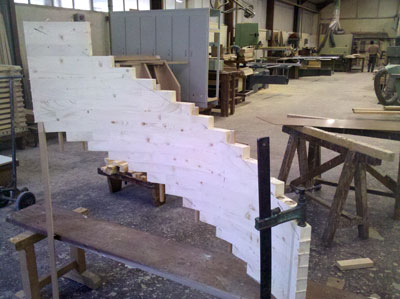 Note the long dowels that holding the laminates in place and providing the cross grain support:
Here the outer veneers are glued to the laminates using white glue and plenty of clamps:
The step housings are machined into the veneered strings using a router and guide made in flexy ply:

Mortises for false tenons are machined onto the end of the strings to assemble the curved section to the straight strings:
The edges of the curved string are cleaned up and veneered:
Here's the stair assembled in the shop:
Here's the stair finished with a curved panel under the wreathed string to close a lower rising stairwell: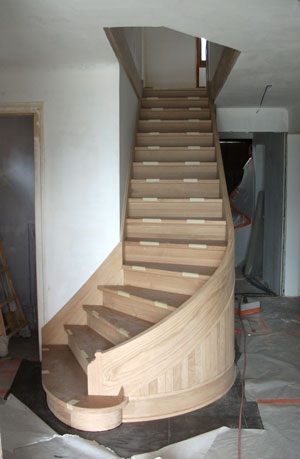 Please sign up for Wood Designer Premium Support if you'd like to learn more about how to build curved stairs yourself.
Thanks for reading.