We'd like to show you a fast and accurate method to make a curved wooden handrail, illustrated in this particular project: a moulded wreathed handrail in laminated walnut, which includes:
Quarter turn wreathed wooden handrail elements
Half turn wreathed element
Multiple straight handrail sections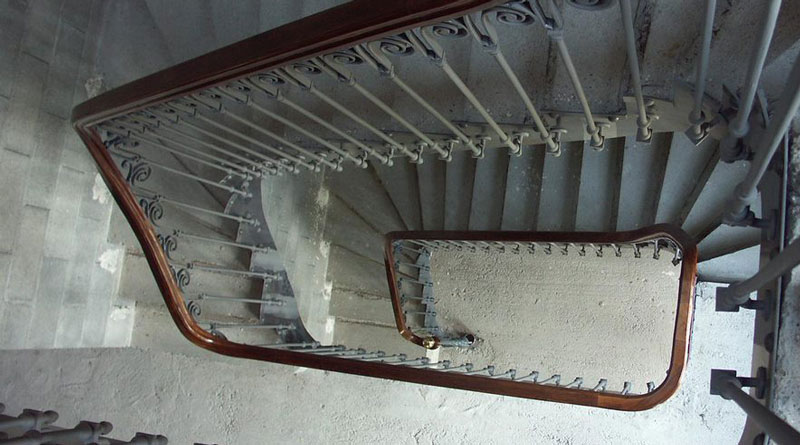 This timber handrail was made using a technique we've called laminated sections.
As well as walnut, this method would work just as well with typical stair materials like oak or pine.
Please watch this introductory video to find out how to make a curved handrail with this method.
Advantages of the laminated sections technique
We developed this approach specifically for making handrails that have to fit an existing metallic wreathed rail, but it can also be used very effectively to make any curved handrail.
The advantage of this technique is that you do not need to mark out the rail.
Neither are there any complicated geometrical calculations or marking out required. You don't need to use the tangent system which is pretty complicated to get in to, no form or mould is required either as would be the case if you were using traditional laminates.to make a handrail like this.
In fact, making a staircase handrail with this method can be done by any woodworker without any specialist handrail knowledge.
Another nice benefit is that the section of the handrail is always perpendicular to the slope of the handrail so spindle moulding is easy too.
What height should a handrail be?
The IRC Stair Railing Code recommends that a handrail should be 34-38 inches above the pitch line/nosing line. According to UK regulations, the figure is 900-1000 mm.
In this project the house was in fact a new build, with the metal stair elements already in place for us.
How to fit a stair handrail
Again we're focusing here on a wreathed handrail.
We have been able to develop this system thanks to modern day polyurethane glue that will expand and set hard.
The technique consists of making sections that are small solid wood rectangles, and stringing them together with aluminium wire to form a flexible wooden snake. This flexible snake allows us to create the form freehand.
Ideally, if you've got access to a nesting CNC machine, you can very quickly cut 100s of the rectangular pieces you need.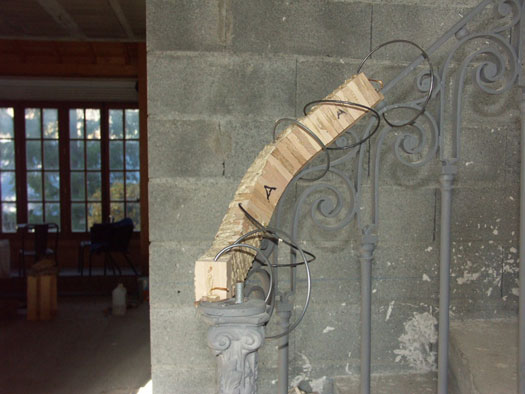 In the case of a wooden banister that must sit on a metallic rail we would actually fix this snake to the metallic rail as shown above. If we're manufacturing a freestanding handrail, we can just create the shape freehand.
Springs have been attached to hold the blocks in place. Once the shape is as we want it we inject polyurethane glue in between the sections to fix the shape. Before applying the glue, add tape to the metal rail for protection.
Here's another image of the blocks in place around the wreathed sections of the handrail.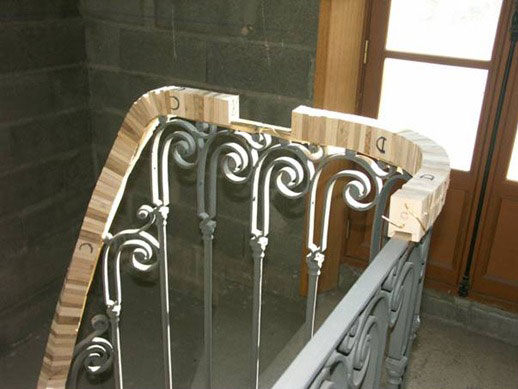 Once set, the shape is removed from the rail and it's back to the workshop. It's still delicate so handle carefully.
One option at this stage is to create a 3D scan of the shape and cut on a CNC machine, but we're going to use a manual method.
To ensure the shape is robust enough for handling and for adding the laminates, the underside is first reinforced with a fibre/plaster mix. To achieve this, create a mould out of plastic, fixed to the blocks with double sided tape and springs.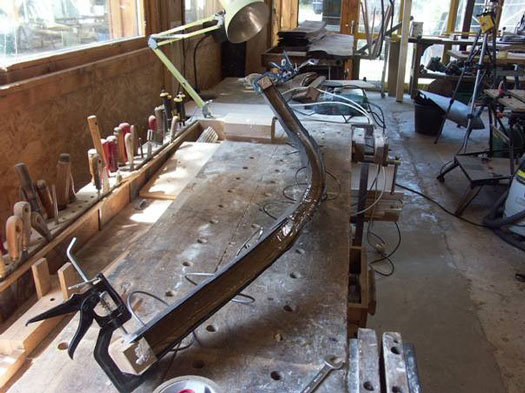 With the mould removed, you can see the shapes reinforced with that mix.
The form can now be cleaned up with a disk sander.
And after that we can glue on the veneer / laminates to make up the form of our wooden handrail.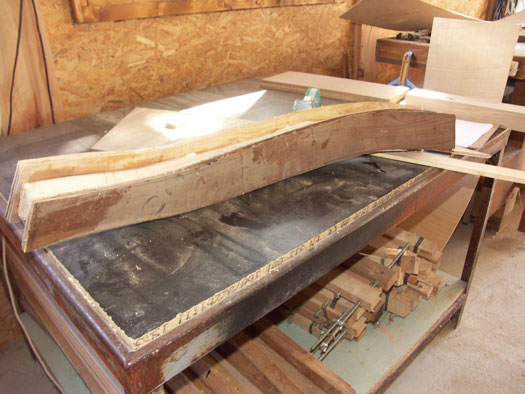 Multiple veneer layers are built up, each 2mm, until we have enough thickness to accommodate a moulding of 10mm depth.
It can be difficult to estimate the shape of the required free form laminates. To get roughly the right shape it's a good idea to fix cardboard on each face and cut to size and to use those as cutting templates.
The clamps for this process have been cut from a single square metal tube, each section is drilled to receive a 8mm bolt that presses all the laminates together while maintaining alignment.
Once laminated the handrail is moulded using a portable spindle moulder. This tool is great for wreathed rails, you can gradually lower the cutter into the wood over multiple passes. This risk of tear out and splitting is very low.
This DIY handrail technique is really efficient for making complex shapes; it's very fast and easy.
The straight sections are made in solid wood, each section is 2mm larger than the wreathed elements and are flushed up at the final assembly stage.
How to install a handrail
Each section is joined as shown in the images below, as the parts are pushed together the screws automatically tighten.
How to attach the handrail end to a wall
Handrails can be attached to the wall in various ways depending on the situation.
Some typical methods include:
Fixed via a base plate screwed into the wall
End with half post screwed into the wall
Chemical anchoring with threaded rod in the absence of any other means of fixing
In this example, the metal structure is already fixed to the wall. The handrail fits on top of the structure and is fixed with screws to the underside. To reduce the number of screws required, this can also be done in combination with direct gluing.
Finished curved wooden handrail project
And finally, here are two images showing the completed handrail. For this project we've applied an antique finish.
Looking for an easier way to build your stairs?
Please post a comment below or go to our forum for any stair building queries you have.
If you're a professional stair builder, check out our own professional StairDesigner software, and let us know if you would like an online demonstration with a member of our technical team.
We've also got a service available for one-off stair projects. Use the free version of StairDesigner to design your project and we'll send you the manufacturing documents to build it.
This is our StairFile service, available along with expert advice, and included with a Premium Support subscription (which you can cancel whenever your project is finished).
Thanks very much for reading!