One of the most difficult parts of stair building is building a solid continuous curved hand rail, and the most tricky question is often how to design the rail and mark it up.
I know, and have used 2 methods of marking up a solid hand rail.
These methods traditionally need one to draw up full size plans by hand, and I have made several stairs this way.
When CAD systems became available in the 1980's I have found that using 2D CAD made the drafting much quicker and more accurate and with the event of 3D solid modelling functions , the efficiency of using CAD for marking out curved parts has again greatly improved while reducing even more the time necessary to draft up the plans.
1. Traditional European Method
The first method I have used back in the 1980's was the traditional European method that I have given a rough over view of in this article :
How to Design Curved Strings and Handrails using StairDesigner and Progecad 3D
Although this method works well for solid strings I find that for precise control of curved hand rails the English method of tangent hand railing is far superior.
2. Tangent Hand Railing System
The tangent hand railing system also has a few hidden advantages that have enabled me to create new techniques that greatly simplify the construction of curved hand rails notably my system of "twisted round solid rails" and "twisted laminates" that you can see outlined in this article:
How to build curved stairs and handrails
One last advantage of the tangent system that is largely unknown and ironical for a system that is several centauries old and largely forgotten,
is that this system is ideal for programming tool paths on a 5 axis CNC router. The tangent system produces a 2 dimensional elliptical curve that twists along a 2D path, so that using the appropriate CAM software, it's easily to defined a 5 axis tool path from the ellipse and the twist angles.
The tangent hand railing system is a way of marking out and making a curved piece of wood that will be used to join 2 inclined stair rails in one continuous movement. This system was originally defined from principles set down by architect Peter Nicholson in the 18th century so it's not new high tech.
The basic idea is to use geometrical construction to get the shape and sizes of a curved handrail in an inclined plank or blank.
To do this, the system draws a prism that is then cut to produce an inclined plane that symbolizes the inclination of the  piece of wood that will be used to cut and shape the curved handrail.
The shape of the hand rail on the inclined plank is called the face mould, and this is used to shape the curve of the rail.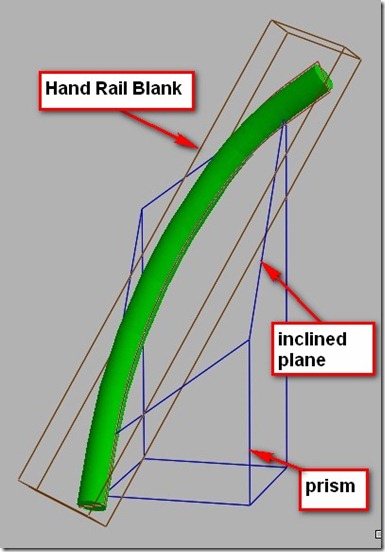 This is an image of how the curved wreath is shaped from the blanks.
For a more detailed description of the tangent method and the underlying principles you can visit this website.
and/or download this document.
In this video I show how to use StairDesigner and ProgeCad to draw the tangent handrail and it's face mould.
Click here to download the template drawing used in this video.
To fully understand this video and for a detailed explanation of how to use CADD and solid modelling for curved hand rails, please ask below or on the forum. Thank you.