The latest release of PolyBoard's Quick Design libraries, version 7.5, is now available for download.
Here's a taste of the new components you can now add to your cabinet projects…
Auto apply the latest hardware
We've continued working with our hardware partners to add these popular and innovative solutions to PolyBoard's libraries: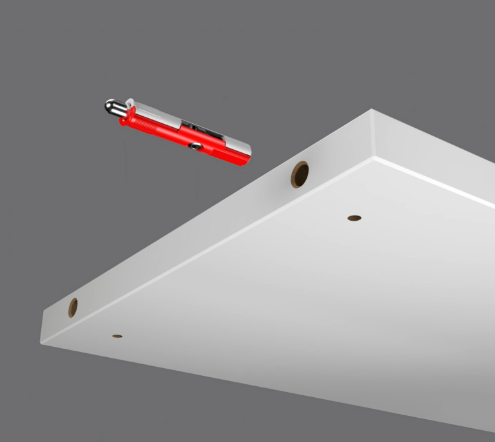 Hettich InnoTech Atira drawer system
Hettich AvanTech YOU drawer system
Hettich ArciTech drawer system update
Hettich Quadro V6+ drawer system
LOCKDOWEL connector systems
Lamello Cabineo – flush and top cap
PEANUT connector systems
emuca shelf supports
emuca CAM systems
emuca ball bearing drawer slides
emuca cabinet feet
Semi applied hinges
Quick reminder: you can build all of these systems into your design preferences (Manufacturing Methods), including the exact positioning you want, and apply with the click of a button to every new project.
Resize or edit your model and the hardware will dynamically update too!
Full hardware details are displayed on the workshop plans of each part, in the cost report, and embedded within the CNC output to run your machine. Click on the images below to enlarge and view the hardware machining:
More visuals for your 3D presentations
As we mentioned above, all hardware has an associated machining operation which is included in the manufacturing output. But it's also possible to link a 3D render to each hardware item, for inclusion in the 3D model view.
Here's a sample cabinet showing a range of different Hettich AvanTech YOU drawers, you can see the newly added 3D of the drawer sliders here (click to enlarge):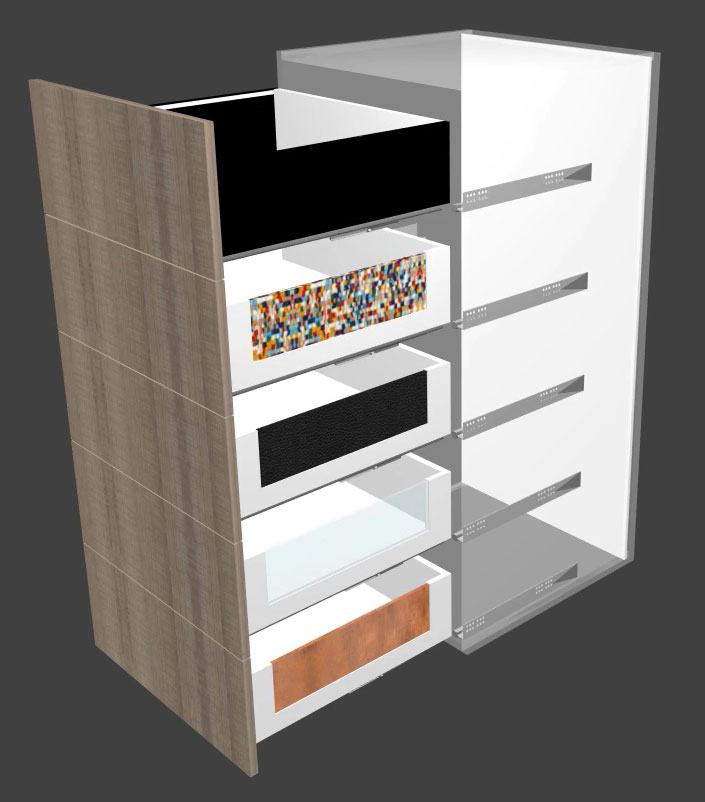 As well as a range of 3D drawer sliders, we've created lots of new 3D objects to use in Project mode to enhance your presentation. We've added new taps, lighting, sinks, coat hangers and lots more.
You'll see examples of these in the models below.
New models
The Quick Design libraries download includes a models folder. This is stocked with a huge range of cabinet and other furniture projects which you can open directly within the software to see how they were set up.
We've added some great new models and extra texture files too.
Updated Quick Design libraries manual
Our Help Centre is the main resource for PolyBoard tutorials and guidance.
But did you know that we've created a Quick Design libraries manual as well? It provides extra detail on the set up, functioning and naming conventions used.
A new and updated version of this manual has now been added to the libraries download.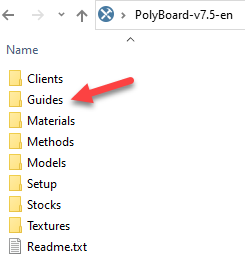 How to access this update
Log in to your account or register for free to download the latest Quick Design libraries.
Note: to use this update please also install the latest version of PolyBoard from the same page.
Before upgrading, please also take a look at the following articles from our Help Centre:
If you are a customer access your Premium Support benefits to get expert advice from our team on the use of PolyBoard's Quick Design libraries.
If you'd like help setting up your own libraries, we offer a 1-2-1 custom hardware + libraries set up pack.
Please let us know if you have any queries, or have ideas for new items you'd like included (most additions are the direct result of customer requests).
Thanks for reading!