What materials are best for your project?
Whatever your wood working project you have the choice to start with raw materials that are either solid wooden boards or a composite material manufactured from wood.
Both types of material have their advantages and drawbacks.
Solid wood
If you are a woodwork enthusiast, of course solid wood is the nicest material to work with. If you are making traditional furniture or stairs making most parts in solid wood is obligatory.
Of course the main advantage of using solid wood is that it's beautiful. Beautiful to look at and satisfying to work with.
With the thousands of different types of wood and decorative veneers the beauty and decorative aspect of solid wood is eternal.
Types of solid wood and how to buy, advantages and disadvantages
Solid wood can be bought in several states:
Rough timber that is essentially a tree sawn into boards
Rough timber is the cheapest way to buy solid wood for your projects. Don't forget that to get from rough timber to planed sections there is a lot of waste.
Count on multiplying the finished volumes by 1.6 to 1.8 to get the volume of rough timber you'll have to buy.

If you buy rough timber you'll need to have a jointer and a thickness planer to get the necessary finished sections to start your job.
As well as the necessary machinery to plane the boards you'll also have to have the tools to joint the boards together to make panels wide enough to build your cabinet or stair parts.
Don't forget to add the extra time to your project. Rough cutting, planing, jointing and flushing up the panels to prepare the wood for your project can take a lot of time and patience.
If you are short on time consider buying boards already planed or laminated sheets from which you can cut your parts.
Most professionals today use pre-machined sections and laminated boards to gain manufacturing time.
Planed timber that is ready to be machined
More expensive than rough timber, buying planed timber can save a lot of time while maintaining the same effect as if you had planed up the boards yourself.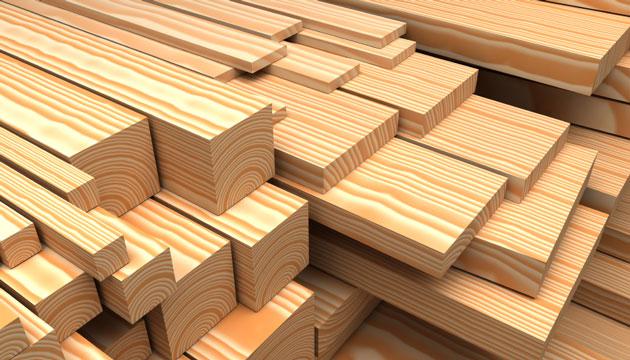 Depending on your supplier you can order planed timber and sometimes assembled panels.
For an amateur, buying planed timber sections is often a very good compromise between having to invest in machines and time to plane timber and the rather expensive option of buying laminated boards.
The main difficulty is likely to be finding a supplier who will plane up the raw stock to your specifications.
Laminated boards sold as sheets ready to be cut and machined
With today's industrial technology it's possible to buy boards that are essentially made of small solid pieces glued together with modern glues.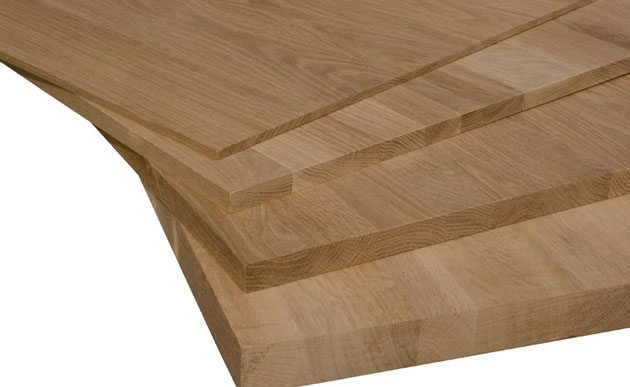 These boards combine a lot of the advantages of solid wood with the advantages of manufactured sheet material.
Dimensionally stable and not prone to warping these boards still maintain a solid wood aspect and structural qualities.
The main disadvantage is the higher price that you pay for the same volume of wood. When time is an important factor buying laminated boards will cost more but save you a lot of time.
3 ply solid boards
A fairly new arrival on the wood sheet material scene are 3 ply solid wooden boards.
These boards are a cross between plywood and solid wooden laminated boards.
Available in sheets and as dimensionally stable as plywood, the only disadvantage is the end grain on the edge of the boards.
Although fairly expensive, 3 ply boards can be a great option for furniture projects where one's looking for a real wood finish and a more robust material than composite, MDF or veneered chip boards.
Moisture content, play and warping
When using solid wood other than 3 ply boards, always count that it will "play". It will expand and contract according the changes in ambient air temperature and moisture content. Wood will contract and expand both in length and width but width play is far more important and length play can be ignored.
This means that joints must be designed to allow for across grain play.
There is a lot of information on the internet about how to deal with wood play and shrinkage, but here are just a few tips that you have to take into consideration:
Moisture content = weight of the water in the wood / weight of the wood oven dry
In trees moisture content will range from 30% to more than 200%.
As wood dries below this moisture content it shrinks until the moisture content reaches equilibrium with its surrounding environment.
To minimise play, wood must be dried, either naturally (air drying) or in a kiln to lower the moisture content to the surrounding environment.
However, as ambient humidity and temperature changes constantly and no matter how dry a piece of wood, finished projects will continue to absorb or give off moisture with changes in humidity and in the temperature of the surrounding air. The wood will always undergo changes in moisture content and dimension.
Coping with wood movement
Take wood movement into account in the design of your project. Experience taught wood workers long ago how to deal with dimensional change due to changes in moisture content. The answer was joinery that allowed for wood movement. Despite today's super-strong adhesives and moisture fighting finishes that is still the solution.
Here are some techniques.
Acquire your wood in advance and give it time to acclimate to the environment in which it will be used or worked. It may be necessary to "stack and sticker" lumber to allow it to properly reach equilibrium with the environment before it is used.
Plan your projects to avoid cross-grain assemblies. Cross-grain joints constantly pull in different directions weakening the joint over time. Design joints so the grain runs in the same direction on both pieces.
Allow tops to move freely. Attach tops with Figure 8 Connectors, Z clips, shop made blocks or elongated screw holes. All of these methods will securely attach the top but allow it to move across its width.
Use "frame and panel" construction. Panels may be plywood or solid wood with a raised panel but if slotted loosely into a groove will be able to expand and contract freely so if using solid wood panels, please DO NOT glue them to the frame. The panel must be free to float and change dimension. A small spot of glue in the centre of the width will keep the panel centred.
Apply a finish. Apply an equal number of coats to all surfaces to equalize the loss or gain of moisture. No finish will block moisture transfer; they just slow it down. Penetrating oils provide the least protection. Epoxy offers the greatest.
The tendency of wood to contract and expand, shrink and swell cannot be stopped. You must plan for it. Design and build with dimensional change in mind.
Heavy machinery for planing
If you are building big projects like stairs from raw timber you'll need some heavy machinery to plane and joint boards.
Building from pre-manufactured materials such as laminated boards, although more expensive, will allow you to build your project with a far lower investment in machines and space.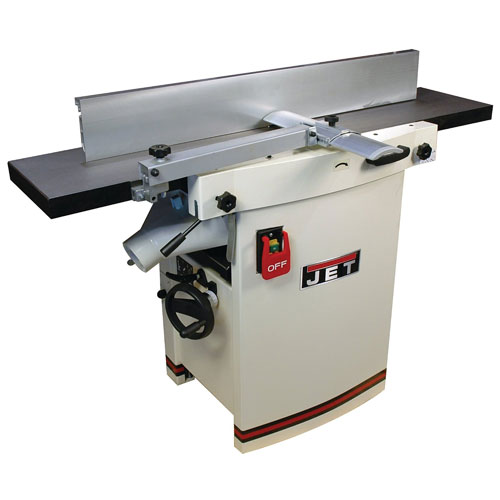 Assembling boards to make panels
Don't forget that lots of parts, whether in cabinet making or stair building, are made of panels that are wider than a single board.
If you are starting from raw timber, gluing up boards to make wider panels will require jointing and lots of clamps.
If you buy laminated boards you can cut panels directly and avoid most edge jointing operations, gaining a lot of time and saving a lot of effort.
Time to work it
Lots of today's professionals use pre-manufactured boards.
Even if equipped with the necessary machinery to plane and joint up panels it's much faster to cut parts from sheet material.
Always remember, when choosing your materials you will be juggling with the time versus money balance.
If you have lots of time and a tight budget and have access to a planer, you can start with raw timber. If you have limited time and no access to heavy machinery start with laminated or pre-planed timber.
When to use solid wood
Generally using solid wood is a must when your project requires a part to be structurally resistant.
In a stair, all parts excepting risers have to support flexion and abrasive wear so solid wood is strongly recommended.
In furniture projects, chairs, tables and frames will also take a lot of wear and tear and solid wood will often be better than a manufactured board. That said some manufactured boards like laminated boards, plywood, block board and OSB are suited for certain structural applications.
When structural constraints are not a consideration consider using a composite or manufactured sheet material.
Of course the other main advantage of solid wood is it's decorative aspect. It's much nicer to see a stair or cabinet in solid oak that made in plywood.
But if your stair is painted or covered in carpeting you might find it quicker and easier to build it in structurally resistant plywood and use MDF for the risers.
The same logic would allow you to make a cabinet with a solid wood front frame and the shelves and interior separations in melamine.
Composite materials
Types of composite material, advantages and disadvantages
Composite materials come in vast range of manufactured boards ranging from solid laminated sheets to melamine chip boards, MDF, plywood, and many more.
Each material has it's own advantages and disadvantages.
The three main advantage of manufactured boards like melamine, MDF and plywoods are their dimensional stability, price and the minimal work required to get a finished product. These materials will not shrink and expand with changes in ambient humidity and temperature.
Composite materials that are not solid like laminated boards should be divided into 2 types:
Structural
Structural materials include: plywood, block board, 3 ply.
These materials can replace solid wood for certain structural parts that will be painted or clad in another material like carpeting, stair stringers, steps, table tops, heavy duty shelving and so on. The exception being 3 ply boards that are nearly like solid wood and can be finished in the same way.
These materials are usually expensive and the cost usually will not be lower than using solid wood. On the other hand their dimensional stability and the less work required to machine parts will be a great advantage over solid wood when you are building wide panels.
Non structural
Non structural manufactured sheet materials have taken an important place in modern furniture.
This due to 3 main reasons:
Price: the great advantage of manufactured is they are cheap. Cheap to buy and cheap to work.
Surface finish: many manufactured boards can be bought already surface finished. Melamine is widely used to make cabinets because once machined and assembled the cabinet is finished. Some boards can be delivered partly finished with precious wood veneers. For decorative purposes veneered manufactured boards can save a lot of time and be a great option to make high quality cabinets.
Reduced machine time: manufactured sheet material is machine ready. No need to surface and thickness plane, no need to assemble panels from narrower boards. Just cut and machine the joints. If you use CNC flat bed nesting just put a full panel on the machine and take off the finished parts for assembly. You can't get much faster that that! Click here to see how a workshop uses CNC flat bed nesting
When to use solid and composite materials
Here are a few suggestions for using materials.
Stairs
Strings
Strings are structural components that need to resist lateral flexion.
They can be made in solid wood, laminated wood, plywood or 3 ply.
For high class stairs I prefer solid wood or veneered laminated construction for curved strings.
If the stair is to be painted or covered in carpet it's possible to use plywood.
Strings thicknesses from 35 to 80mm. Thicker strings can be used for decorative effects but are not structurally necessary.
Steps
Steps are structural elements that need to resist thickness flexion and surface abrasion.
They can be made in solid, solid laminated or if painted or covered with carpet 3 ply.
They should not be made in non structural composite boards like MDF, chip boards etc.
I consider 30mm a minimum step thickness when made from solid wood or composites. For wide stairs over 1 meter you'll need either to make the steps thicker or add a carriage support in the middle of the stair to stop the step bending.
Risers
Risers are non structural but are subject to some surface abrasion.
In general it's better to make risers from solid wood, but for cheaper stairs composite materials like plywood and MDF can be used.
Minimum thickness would be 15mm.
Newel posts
Newel posts are structural elements that are used to link stringers.
They are structurally the most fragile part of a wooden stair and must be made of solid wood.
A minimum section would be 70x70mm.
Cabinets
For the reasons given above modern cabinets are always made of manufactured boards.
However you have a wide range of manufactured materials to choose from, and the type of manufactured board best suited to your project will depend on several factors.
Here are a few points that you should take into consideration.
Boxes
Sides, tops, bottoms and interiors
It's common practice to make these elements in melamine.
Melamine is very surface resistant, cheap and available in a vast range of colours and decorative panels.
This makes melamine a good finish for general cabinet interiors.
As the outer elements of boxes require some structural rigidity, I consider 19mm (3/4") boards the best suited for these elements.
Note that the outer components do not have to resist flexion and could be made of 16mm boards, whereas shelves may have to support a lot of weight.
Long kitchen cabinets and even more so bookcase shelves may bend over time, so consider 19mm as minimum for these elements.
Backs
Backs are not structural and can be made in thinner material than the sides. If you are using melamine, 8mm is fine.
Façade components
Doors
Famed components should have a solid wood frame with an inner panel in plywood or other composite material.
Common thicknesses are:

Frames 60 to 80 x 20 to 30mm
Panels 5 to 12mm

Single panel doors can be decorative melamine or any other decorative board. Again minimum thickness should be 19mm.
Note that doors can be made of MDF and machined on a CNC router and painted to look like a framed door.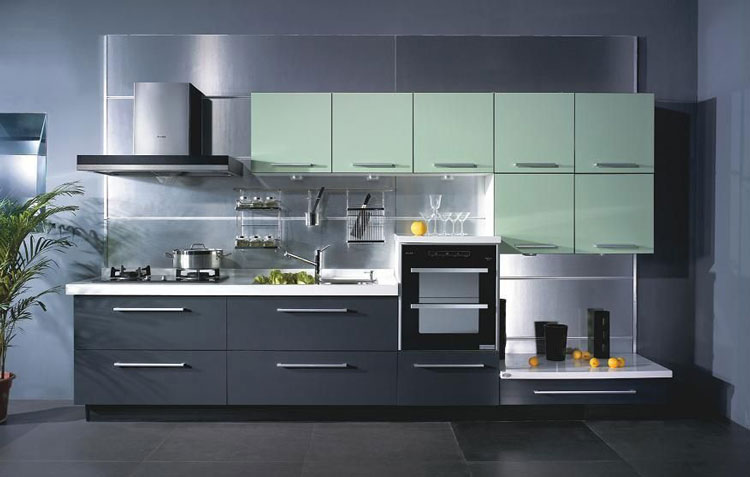 Drawers
For drawer façades, please see the advice above on doors.
For sides, backs and counter fronts, use composite boards, melamine, ply etc. Melamine thicknesses from 16 to 19mm work well.
Plywood is stronger than melamine so for small drawers 10 to 15mm is fine.
For bottoms, melamine or plywood from 5 to 10mm.
Traditional furniture
Tradition furniture will of course be made from solid wood, but if you're building cupboards consider using veneered plywood for panels, shelves and interior separations.
Note also that furniture made from 3 ply boards can almost look like traditional solid wood but without many of the issues you would get with it.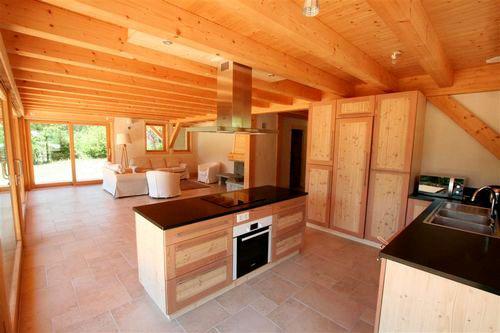 Conclusion
Modern technology and materials provide today's amateur and professional wood workers with practically unlimited resources to design and create beautiful and original projects.
They make it possible to build wood working projects in a reasonable time with a minimum number of tools and resources.
Put to the service of a craftsman's creativity, modern tools and materials open possibilities that have never existed before.
It is up to us to use them to create beauty in our world today.
Please be sure you check out the rest of our stair and furniture building resources in our Help Centre and here in our Blog.
Or check out our furniture design to manufacturing software Polyboard, and StairDesigner.
Happy woodworking.
Ness Tillson