One of the biggest time and money drains in any manufacturing business is cutting the raw materials
And with rising material costs saving even 10% on a large project can save hundreds if not thousands in hard cash.
Getting this right is vital to the competitiveness of any manufacturing business.
OptiCut has enabled us to make a 20% saving on raw materials as well as enormous savings in time and effort.
Thank you again for this excellent tool.
OptiCut optimization software key features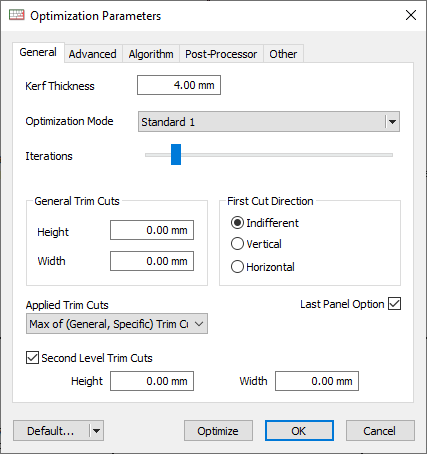 Multi-mode optimization algorithms
Powerful parametric algorithms including 6 predefined optimization modes:
Whether you need to optimize faster, cut faster, are cutting by hand or on a CNC, choosing the right mode will make your job easier and more efficient.
Use mixed materials and panel sizes in the same cutting list
No need to sort your cutting lists by material type.
No need to sort the original sheet sizes.
If you have several materials on your list and different sized sheets in stock, OptiCut will automatically search the sheets by size and material and optimize the appropriate parts on the right panels.
For each material you have in stock, OptiCut will take into account all available sheet sizes, including the stock of off cuts.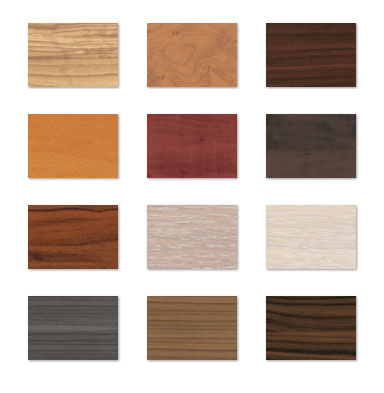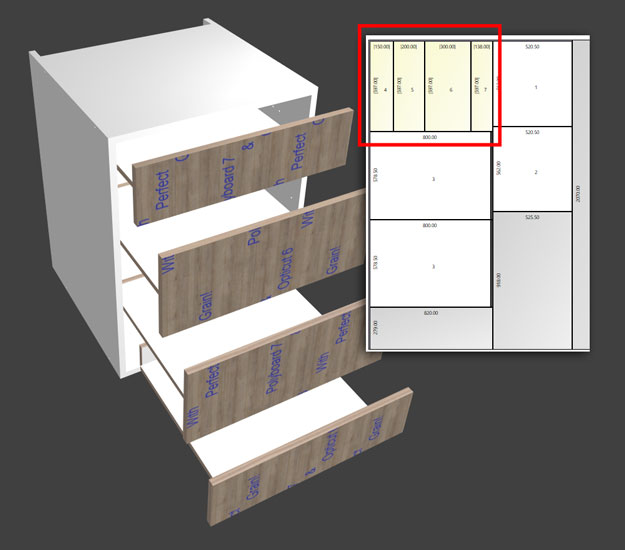 Adjacent parts (e.g. drawer façades) are grouped on your sheet material to ensure the grain flows perfectly across them.
Managed from within PolyBoard for automatic transfer to OptiCut or adjust within OptiCut itself.
Automatic deduction of edging
OptiCut will adjust the part sizes according to the thickness of edging material that you apply to your parts.
You can define edging thicknesses, and display either net (cutting) or finished edged dimensions.
Extend cutting dimensions to accommodate rough cut parts
You can use the pre-cut parameters to cut parts that will be re-calibrated afterwards (for instance on a CNC).


Optimization of bar materials
OptiCut is not just a panel cutting optimization software. Manage profiles, mouldings, battens, beams, joists, metal rods, bars, strips and any material that you manage in fixed lengths.
In the same way as OptiCut optimizes sheet material it will print cutting maps, as well as global reports, and labels for all your materials in lengths.
Stock and off cuts management
You can manage your existing stock of sheets and materials and include usable off cuts from previous projects.
OptiCut's stock management can be up-dated after each optimization.
Off cuts defined with a minimal usable dimensions will be considered reusable and integrated into existing the stock and used in future projects.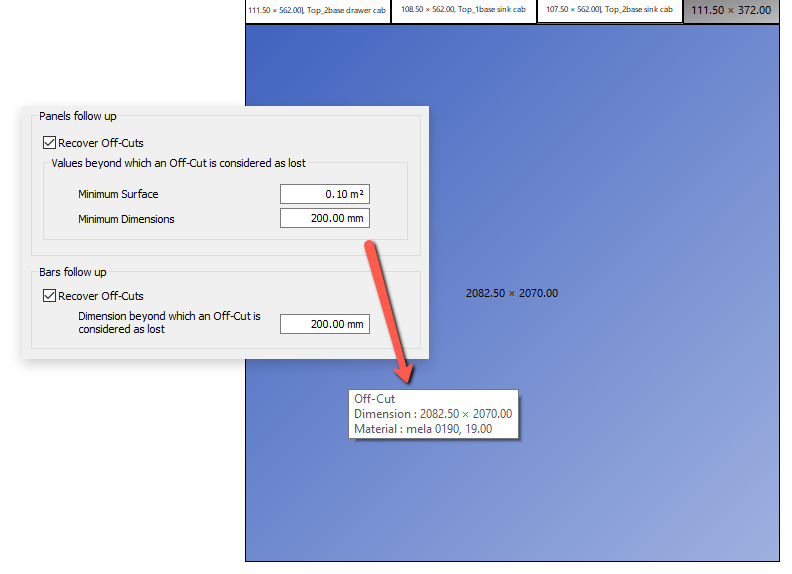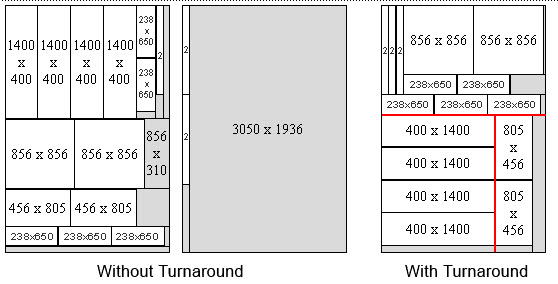 Our woodworking optimization software has a sheet turnaround function that enables you to change cutting direction (horizontal or vertical) within the same cutting map.
Changing cutting direction will reduce waste but may increase sheet manipulation and therefore machine time, so you can choose the best compromise for your project.
A project with expensive material will be better optimized with turnaround, whereas low cost materials might benefit from less machine time and be optimized without turnaround.
Consider whether it's better to spend a few extra minutes cutting rather than having to go out and buy an extra sheet.
Stop wasting time, money and effort
With OptiCut you will save material and always know exactly how many sheets to buy, how to cut each part, and take into account and use the off cuts that you already have in stock.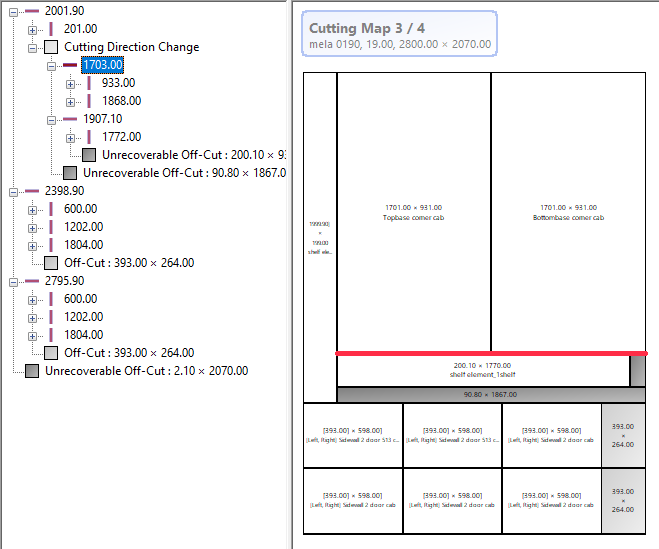 Cutting maps with cutting sequence
OptiCut doesn't only calculate the optimal position of all your parts but will tell you how to cut by writing a complete cutting map.
You'll know the exact sequence of cuts necessary to use the least material possible and minimize the time required to cut your panels.
Read and write cutting lists in all formats
OptiCut will read and write cutting lists made on all major spreadsheets like Excel, OpenOffice, Google Sheets etc.
In addition, our sheet cutting optimization software will interface directly with PolyBoard and all other cabinet design software.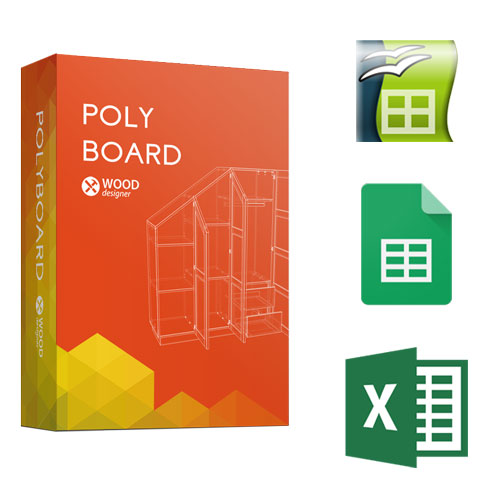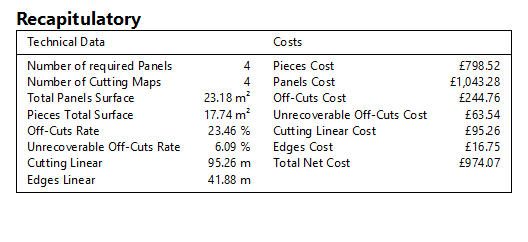 Technical and financial reporting
After each optimization OptiCut will print with the cutting maps and a complete global report that lists the technical data, the cost of the materials used, the waste and the cutting time.
All measuring units, all currencies supported.
A great way to know how much money you have saved!
Comprehensive label printing
Print labels for each part to track them effectively through the workshop.
Once printed apply the labels to your parts for quick reference to the dimensions, name, number, material, edging position, CNC file and much more.
Data fields fully customisable, option to add company logo.
Barcode functionality
Touch screen functionality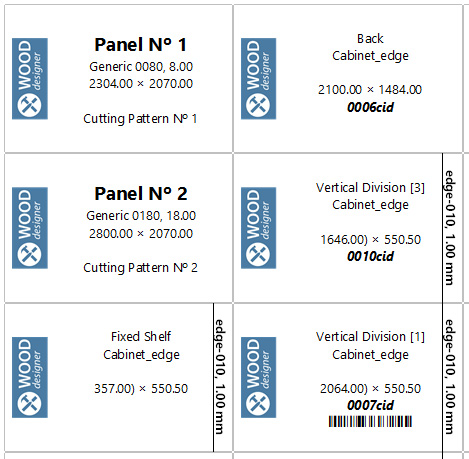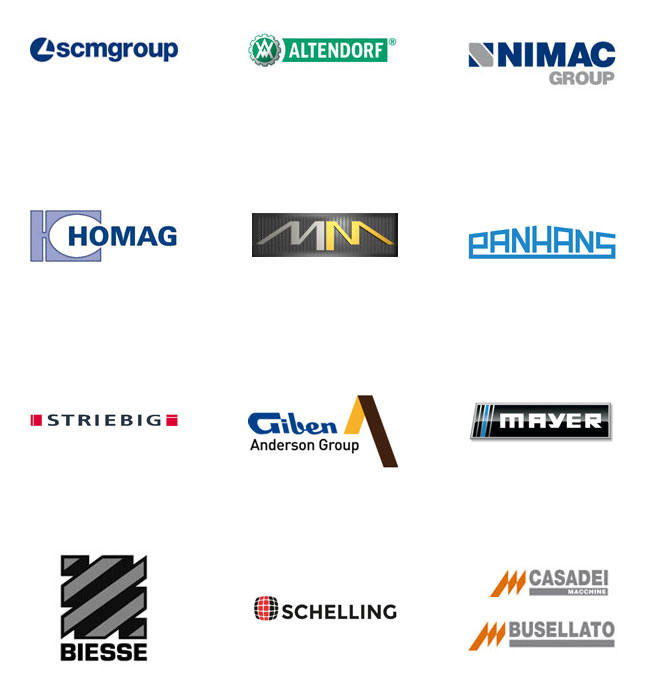 Integrated post processors for CNC saws
OptiCut's post processors write cutting maps for the all the major CNC saws, and many more. Click below for information on integrating OptiCut with your CNC saw or CNC machine, including a sample optimization download.
Not just a wood cutting software, optimization of metals, plastics and virtually any material that comes in panels.
Plus profiles and bars in multiple materials.
Some of the businesses successfully using OptiCut software today...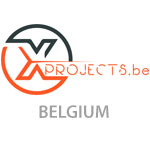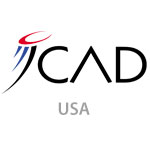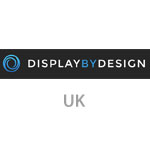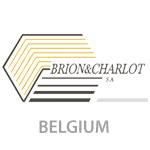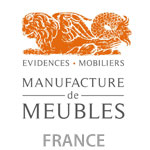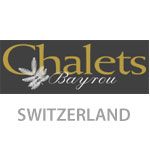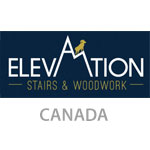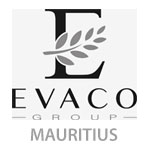 Peter Brown
P&S Furniture
"PolyBoard and OptiCut work great for me as once I have completed my designs I can produce an order for all my Vinyl wrapped components at the touch of a button before I start my manufacturing, thus saving valuable time."
Brice Ambrosinio
Gaudier & Kuppel
"Following our purchase of OptiCut, our entire team is delighted with the software. It allows us to optimize our use of materials extremely well, as well as our cutting sequences. The time it has saved our project manager is massive."
Ain Avi
KLASSIK INTERJÖÖR OÜ
"Today is historical for my company, first project processed together with OptiCut and PolyBoard, using PP [Post Processor] output files. It is amazing how much time and money we win, and quality! Thank you to all the Team!"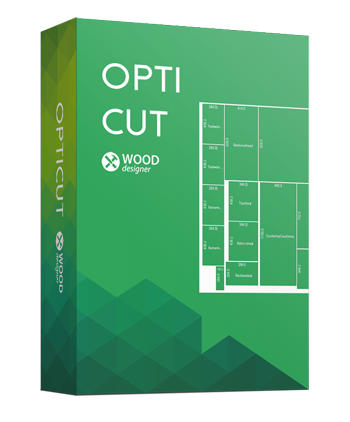 OptiCut comes in 5 versions
All versions are fully featured professional versions, only the number of parts that you can optimize changes.
From 50 pieces up to unlimited capacity.
All versions interface seamlessly with PolyBoard.
High end industrial version writes the code for your CNC saw
No need to separate even large cutting lists into sections
Small to medium sized shops, optimise larger projects in two
Save cutting lists into sections for medium sized projects
Ideal for small shops, optimise larger projects several times