StairPlan: professional stair design service
Your stair, designed for you.
Send us your stairwell sizes and specifications, we'll design your stairs using our StairDesigner software and send you the manufacturing documents.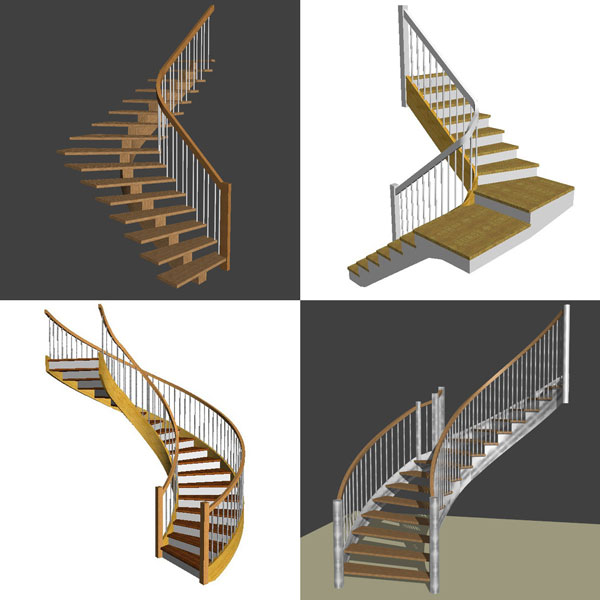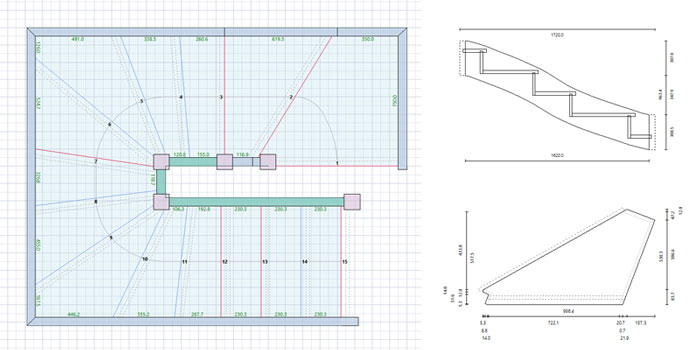 What you'll get with a StairPlan...

Complete personalized study of your stair and associated parts: landing, integrated cupboards and so on.

Working drawings in DXF, DWG and PDF formats, including full size templates.

Personal help and advice as you build your project.
Your own personal design service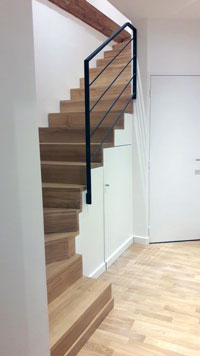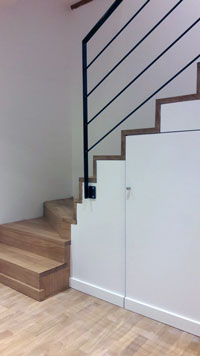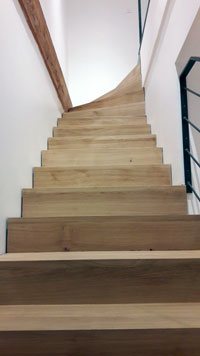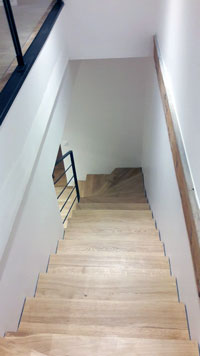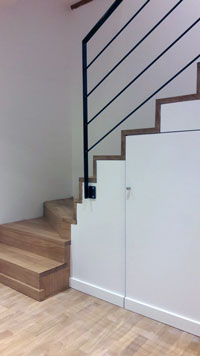 The project is complete, and from my point of view, this staircase was a success.
The StairPlan service allowed me to have a starting point for this stair, which changed somewhat over time, although the design of the flights remained broadly the same. It is a solid oak staircase, 1/4 turn at the bottom, 1/4 at the top, steps and risers of thickness 35 mm, without nosing to give it a contemporary look.
I asked Michel (who made the initial plans) for his opinion on the strings, with a view to keeping the design as simple as possible. The strings were made in several pieces, 30 mm plywood. The relative flexibility of this structure was offset by the "self-supporting" aspect of the whole.
This is the first project of its kind for our company.
The StairPlan service has allowed us, at a very reasonable cost, to fulfill the customer's request without any prior knowledge of staircase design, at a price I consider very reasonable. We are currently discussing a new stair project, a 3/4 turn this time.
When this goes ahead, I'll be ordering this service again from Wood Designer.

You would prefer not to design your stair but still want the full workshop plans and DXF output

Your business would benefit from outsourcing to a specialist stair design team

You are working on a one-off stair project and need some expert help to complete it successfully

You would prefer not to learn how to use StairDesigner
Get your project started with our StairPlan service today
Sold as a 4 hour support pack, or multiples thereof
Once you've completed payment please send us your projects specification (e.g. dimensions, drawings, images, including those of the stairwell). Depending on the nature of your project, we may work on your design with you in online sessions, or work on your project on your behalf, or a combination of the two.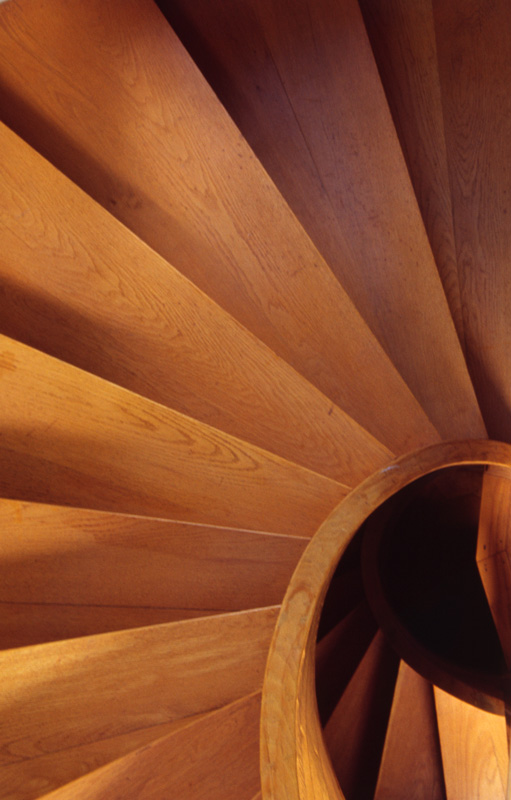 By purchasing the StairPlan service you commit to provide all necessary information to allow us to design your stair and complete the service within a period of 2 months starting when you place your order. All design work is carried out with our StairDesigner software. We do not offer design support for any aspects of your project that cannot be accomplished using StairDesigner. This services includes a maximum of 4 hours of design support. Whilst this is sufficient for almost all projects, we do not commit to finishing the project in this time. It may be necessary to order additional support or complete the project yourself.
By using this service, you agree to our terms and conditions detailed here.