Sent in from users of our StairDesigner software and our StairFile Service.
Please get in touch if you would like us to feature your work here or if you would like us to create an article about your experience.
Mark Nichols
Mark Nichols & Co Ltd
"We designed and produced by hand...in under 10 days from start to finish.
It's a big thumbs up from us to the power of the software."
Samuel Lennartsson
J. Lennartsson Snickeri
"The stair is a continuation on an existing stair and will end up in a newly decorated attic. Last step will be a landing that sits between two rafters. The project went well. We are happy with the service and StairDesigner program."
François Banton
Staircase manufacturer
"The use of the StairDesigner software has allowed us to work faster and much more accurately throughout the design and manufacturing of our stairs."

The StairDesigner software is fabulous. I had a trawl through the web and this is the best app available.
Victoria Un
Professional woodworker
I have made my stair thanks to your software. It's a quarter turn with winders, difficult to calculate because of a very small stairwell that's only 1750mm long... it all worked out fine in the end thanks to your software and help.
Ludovic Aubier
Amateur stair builder
I would humbly give the following advice...use Wood Designer's StairFile service, it will save you hours of calculations and possibly expensive errors.
Serge
StairFile user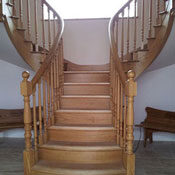 Richard and Andrew Suckley
Holt Cabinets
"A great example of how to combine modern laminating and traditional hand railing techniques with modern high tech CNC to build a beautiful traditional stair. We provided the team at Holt Cabinets with design and manufacturing advice throughout the project.
Professional stair builder
Jérémie has sent us a short video of his stair that highlights superbly his craftsmanship and how with a little help from StairDesigner and our StairFile service you can put together some amazing projects.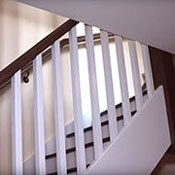 I've been making stairs for 20 years. StairDesigner is a beautiful tool, the 1:1 templates are extremely precise, save me a huge amount of time and massively reduce errors.
Christophe Guillard
Stair manufacturer
I am very happy with the service. Stairs are a small part of what I do, so will not use the system a lot. I would recommend your product and service to anybody. Thanks
Damian Clarke
Furniture maker using our StairFile service
I use the free version of StairDesigner and I am in my seventh staircase. I still have two to go. I am neither a mason nor a carpenter, I am an accountant. Even your free software is very useful.
François Brun
StairFile user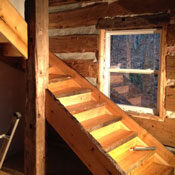 Calabogie Rustic Furniture
"The logs came from an old barn that was dismantled and [the customer] reassembled into a nice little cabin on the river near Calabogie Ontario, Canada... thanks for the help and I look forward to working with you on our next project."
StairFile user
"Many thanks for the access to the StairDesigner software. Although I have used only the free mode, I was able to make the perfect stair dimensions for my house. The stairs were just installed!!! Once again, many thanks!!!"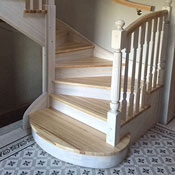 I wanted to thank you for all the help that you have kindly offered me throughout my stair project. Despite my many years experience in woodworking, your expert advice helped greatly with the calculations.
André Castonguay
New stair business
I would like to thank you once again for the advice and personal coaching that you have given me over the last few weeks since I've started work on my house and especially the stair that I have built thanks to your StairDesigner software.
David
StairFile user
I've learned a lot thanks to you and StairDesigner and building a quarter turn stair with winders is an ambitious project for an amateur wood worker like myself. Your advice and coaching to set up the plans and all through the build of this project made it a complete success!
Dominique
StairFile user
Jean-Charles Florent
Stair maker
"I didn't have any training but I managed after I discovered your site on the internet, which made me want to continue in this area. I am very happy with the StairDesigner software which I find very easy to use."
Thierry Loeve
StairFile user
"After having worked hard on my stair project it's at last finished and installed. I haven't had any problems building the stair or getting the winders to fit on the turning...thanks to your services and advice..Thanks again for all your help a real God send that saved me hours of work and struggling."
Ole Rønneseter
StairFile user
"This was a very challenging project, but I am very satisfied with the result. I couldn't have done it without StairDesigner. All the wood used in the project is supplied from my own forest and processed home on the farm."