PolyBoard Essentials: Previous | Next
So far we've seen how you can use PolyBoard's parametric features to design fast and accurately.
But the real power of the software is built into its Quick Design libraries.

We use the term Quick Design libraries to refer to a group of libraries and also to PolyBoard's manufacturing methods and sub-methods.
The libraries stock design components like materials, hardware, 3D accessories and shapes
The manufacturing methods can be thought of as style sheets, describing how these components should be used
As discussed earlier, it's always possible to directly edit and change the material of a part, or add a hinge to a specific door for example. But for efficient production it's much better to build your preferences into a manufacturing method so you can apply them with the click of a button.
If you need to change your preferences, simply apply another manufacturing method, or edit the one you're using. Your entire project will update immediately, this is much faster and less error-prone than editing individual parts and cabinets one at a time.
Further resources
The libraries and manufacturing methods and sub-methods are set up and ready to use, but they can all be customised exactly to your requirements.
For additional support see:
Libraries
Below we list all the libraries available in PolyBoard and their purpose.
To access the libraries go to the Libraries menu:
Some of the more commonly used libraries are also accessible via the Quick Design toolbars, like the Panel materials library:
Panel materials library
Your stock of panel materials.
Materials characteristics include:
Thickness: a reminder that you don't edit material thickness in Cabinet mode, instead you select material of a specific thickness
Price: used to generate the material cost report
Exportable: whether to include in CNC output
Grain: define panel grain direction
Colour: appearance in 3D view
Texture: link to a material texture image file from the Textures library as an alternative to a colour render
You can edit or add as many materials as you wish.
Depending on your production preferences, you may wish to have a material for every possible material you use.
Another simpler option many of our customers opt for is to use generic materials in every required thickness for the design phase (linked to your manufacturing methods) and cross reference these with the project specific materials in the finishing phase.
This can be done quickly using the Modify style wand to align the project material with the customer's request:
Edging library
Your stock of edging materials, with similar characteristics to panel materials, excluding grain.
Bar materials library
Bar or profile materials can also be used in PolyBoard, typically for a frame and panel assembly or for non-cabinet type furniture including desks, a balcony, a simple door, chair or bed for example.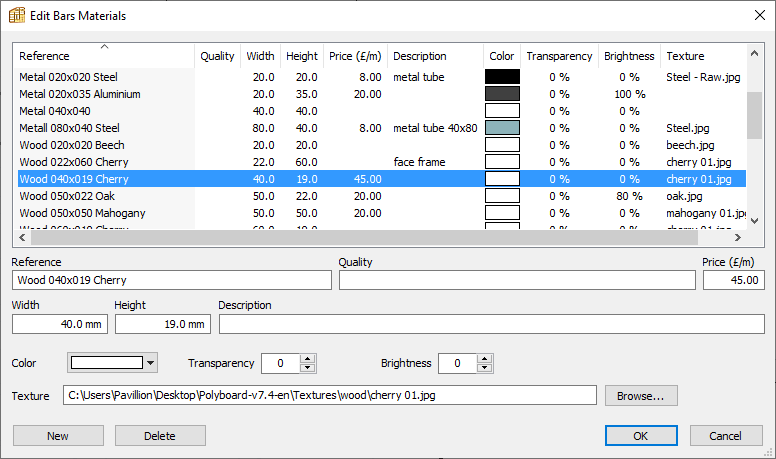 Unlike panel materials which do not have dimensions other than thickness, profile materials necessarily have width and height properties.
Textures library
This is a special library contained within the Quick Design libraries folder. It includes all your texture image files which can be linked to a material to control its appearance in the 3D render.
It is not accessible from the Libraries menu, instead you access it when browsing for an image file via the panel, edging and bar materials libraries:
You are then able to navigate to and select your preferred texture image:
Panel structures library
As discussed previously, it's possible to add complex frame and panel structures in PolyBoard, via the Structures menu.
These structures can be saved and stored for later application in the Panel structures library. PolyBoard comes with a range of pre-configured structures to use or modify.
Open curves library
The Open curves library stocks open shapes that can be applied as toolings e.g. as an angle or edge tooling.
You can select the green + button to open an editing window and create a new curve to add to the library.
Or you can create the shape in a CAD programme and import as a DXF file.
Closed curves library
Just like the Open curves library, but in this case to hold closed shapes for use as inner toolings.
Fittings (hardware) library
This library stocks your hardware, specifically and most importantly the machining operations required for each.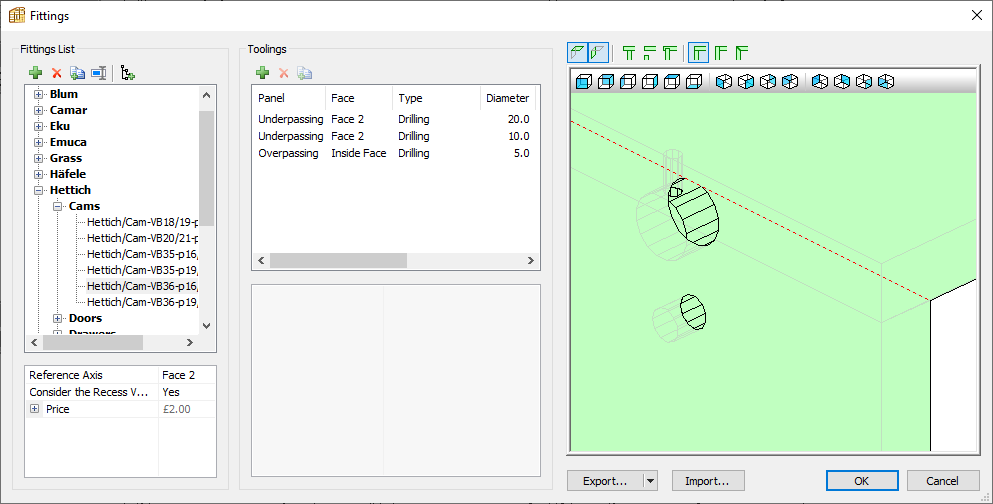 The type of machining operations include:
The detail of the drilling or other operation is detailed, for example:
Depth
Diameter (for drilling)
Dimensions (for a groove)
Shape reference (from the Closed curves library)
Position
A 3D accessory (3D representation of the hardware) can also be associated with the fitting and will appear in the 3D view of the cabinet.
More details:
Data ranges
This specialist library contains dimension values to dynamically filter the application of specific hardware.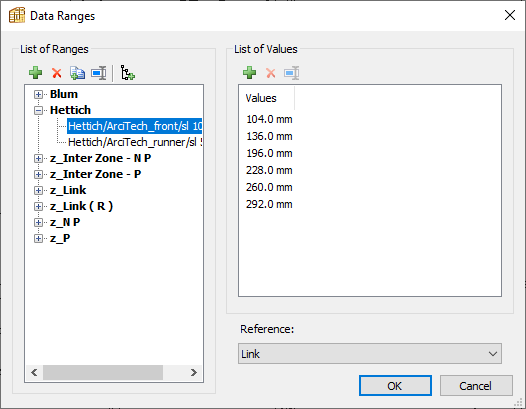 Rules
The application of hardware requires not just the machining details in the Fittings library.
PolyBoard needs to know where to place the hardware.
The Rules library lists all positioning rules. When applying hardware the fitting itself and a rule are selected together.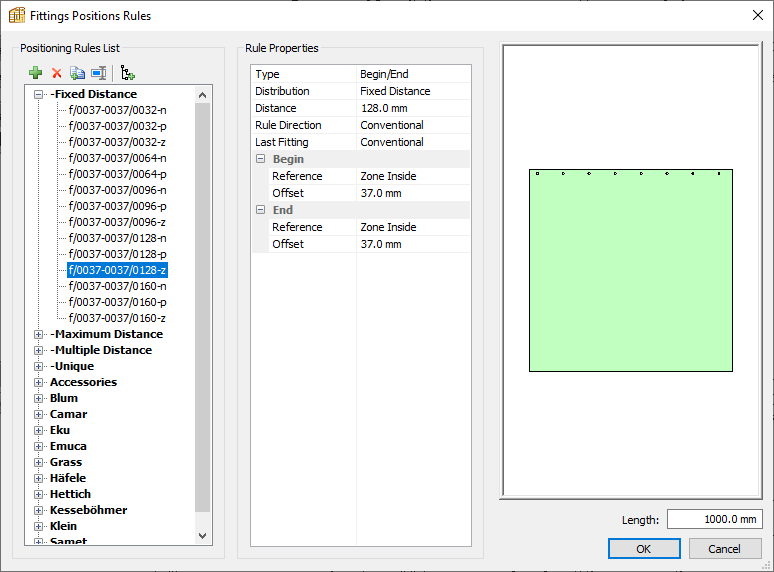 A huge range of positioning options are available or can be created for different applications, including:
Generic rules for the placement of cams, dowels, screws, hinges, drawers, shelf pegs etc.
Rules for specific manufactured drawer systems e.g. Blum, Hettich, Grass etc.
Placement of fittings at fixed distances from each other
Placement of fittings at maximum distances from each other
Placement at a specific distance from the edge of a panel
Single panel fittings
These are a special type of hardware, or more accurately the machining for the hardware, used for handles, knobs and other 3D accessories.
More details:
Extended: handles, specialist fittings and other 3D accessories
3D accessories
This library holds all 3D images which can be used for a number of purposes:
3D images for single panel fittings hardware e.g. handles and knobs
3D images for standard hardware e.g. hinges, drawer sliders, panel fittings
Appliances and kitchen hardware like sinks and taps
Coat hangers, lamps, books and any other 3D object you need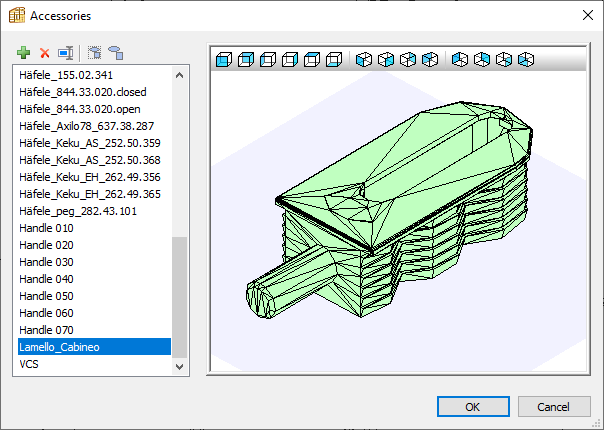 More details:
Extended: handles, specialist fittings and other 3D accessories
Tool identifiers
A final specialist library of tool types used within PolyBoard's CNC post processor settings. This allows you to overrule the standard settings in your post processor and apply a specific tool.