Looking for an alternative to manually calculating your cutting list?
We'll take a look at how to transition from manual cut list production to a design and manufacturing process that automates creation of the cutting list.
We can split this solution into two stages:
Parametric project design including instant generation of the cut list
Processing this cut list to create a cutting map detailing how to cut your parts from the panel material
Compared with a manual process, you'll eradicate expensive errors that will likely only surface at the assembly stage, save on materials and work much faster.
What is a cutting list in woodwork?
Essentially, a cut list is simply a list of the parts in your project detailing for each:
Quantity
Material
Dimensions – thickness, width and length
Additional information like edging requirements and extra notes
Although this may seem self evident, the cut list is a crucial part of any production process, and strangely enough often a task that is underestimated in its complexity and importance, as it bridges the design and manufacturing phases.
How do you make a cutting list?
You can manually write out the details for each part cross referencing from a dimensioned drawing of your project. Create your own cut list template to print out on paper and fill that in as you go, or enter on a spreadsheet.

Writing a cut list from production drawings can be a long and tedious operation. Using this cut list to actually cut the different parts out of your raw material, if done by hand, can be even longer and more error prone, wasting a lot of time and material (a major overhead for any woodwork business).
If the customer needs a design change, you've got to recalculate everything by hand again with the potential for more mistakes.
The alternative is to use cabinet software that includes the cutting list output, as shown in this example below: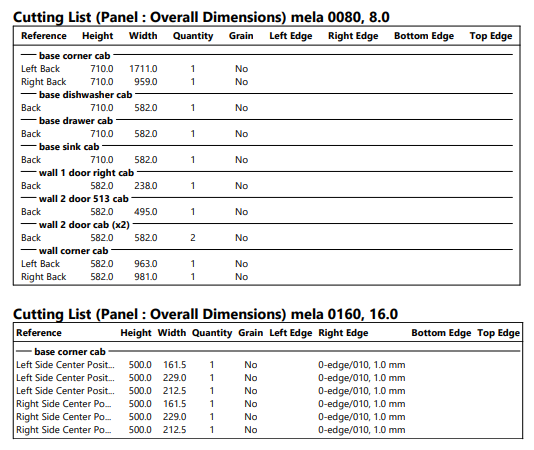 Choosing the right cutting list software
There are a lot of CAD packages on the market, but they tend to focus on drawing your design, and very few readily output the manufacturing files (including the cutting list).
Some drawing software will manage some kind of output, for example you can find cut list extensions for SketchUp. However, they can be limited and design changes are still error prone.
Instead you could consider parametric design to manufacturing software like PolyBoard.
The basic idea is that instead of drawing your parts you size the carcass and add and position your components like the shelves, uprights, doors and drawers. You've then got instant access to the cut list (along with a 3D presentation, a plan of each part and the CNC files).
To edit your project resize your overall cabinet dimensions and the entire project, including all parts, automatically resizes. Or add a sloping top and again all parts are recalculated and the cutting list is dynamically updated.
Cut list optimizer
Stage two of the production process is to cut your parts out of the sheet material.
You can manually run through the cutting list and do this intuitively, but you're liable to waste a lot of material and it will take longer too.
Instead, using cut list optimizer software we can take the cutting list and from it generate an optimized cutting map. This tells us how to cut our parts, ideally both the exact cut locations and the sequence of cuts.
The great news is that this software is readily available and easy to integrate into almost any manufacturing process.
The software we offer is called OptiCut. It is a standalone solution allowing you to input your cutting list manually or with a spreadsheet.
With a pre populated stock of panel materials the software will automatically generate:
Cutting maps for your project by panel material type
Fully optimized cut sequences to balance time vs material savings
Customisable part by part labels to keep your workflow well organised
Yield reports and automatic costs and estimations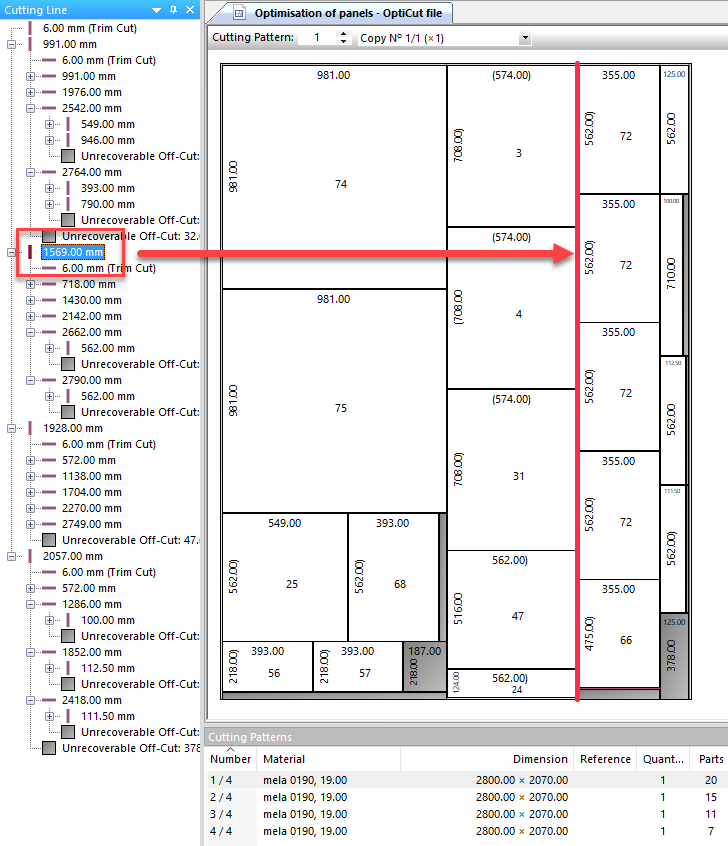 OptiCut also fully integrates with PolyBoard, with the click of a button output the cut list from PolyBoard to OptiCut ready for optimization.
This video shows you how that integration works:
Manual and CNC saws
Either work with the cutting maps and sequences with a manual saw, or use one of OptiCut's post processors to automatically run your CNC saw.
Grain and stock management
As well as automatically optimizing your woodworking cut list, OptiCut includes some other important features:
Grain direction feature places adjacent parts together on the panel so the wood grain flows naturally across them
Stock management system
Off cut integration back into your stock
Bar/profile material optimization as well as panels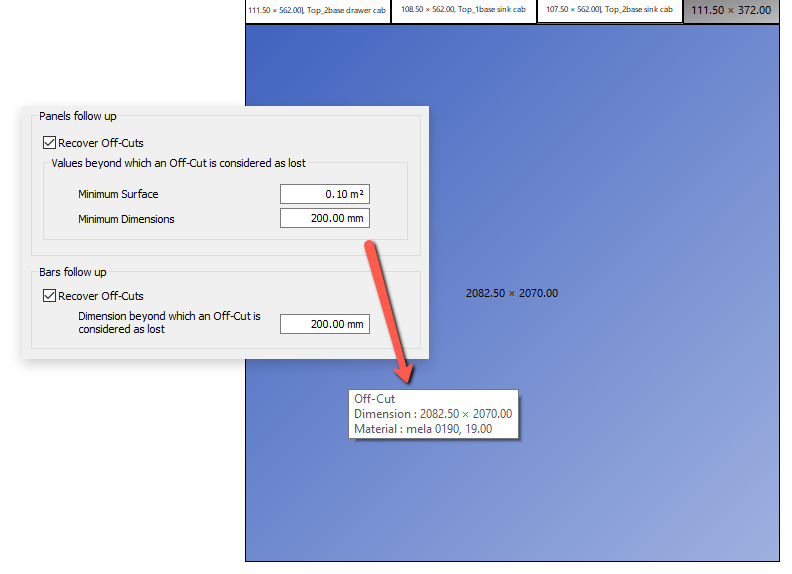 Are you time or cash rich?
If you've just started a woodwork business, you probably have more time available to manually work out your cutting list, and how to cut your parts. There will still be some disadvantages, but rectifying errors if you're time rich is easier.
As soon as you start to get regular orders in, and time becomes scarce, it's a good idea to look at ways to increase your productivity. Using design and optimization software is one of the easiest ways to do this.
You will be generating increased revenue now, but overall you'll save much needed time and money with the investment.
Next steps
Click below for more details on our professional design software and cut list optimizer:
You can download free versions of the software for testing, and contact us here if you would like to arrange an online demonstration with a member of our technical team.