Today we'd like to introduce you to one of our StairDesigner customers, Konrad from CAMFORM in Poland, who has been using our software since October 2020.
Following the long-standing tradition of woodworking in his family, Konrad began his small 3-person stair manufacturing company in 2016, though he has been around stair creation since he was just a child. His father was a carpenter, as well as his 2 grandfathers, and he has learned all his woodworking expertise from his dad.
His father's decades old stair company began to sell wooden stairs to Norway and Sweden long ago, where woodworking design was in great demand. Konrad has continued in his father's footsteps, and now sells his stairs to other parts of Europe as well, including Sicily.
Konrad is passionate about graphic design and technology, and loves how woodworking these days has a mix of CAD, CAM, and design software such as StairDesigner, which outputs to his CNC machines.
Currently, he is finding the best production flow to be:
Quickly and easily design the stairs for his customers in StairDesigner
Export the 3D DXF (or 3DS) files into SketchUp where he can add his own artistic flair to the images
Export the files to his CNC machine for cutting and tooling
And finally shipping to his customers across Europe
As well as the 3D DXF files for SketchUp, StairDesigner is able to output all your manufacturing files: cut list and 2D plans of all parts, and the CNC files.
Below you can find more great images of what he has been able to create using StairDesigner and SketchUp. The textures and effects are subtle, enhancing the presentation whilst still allowing the design concept to shine through.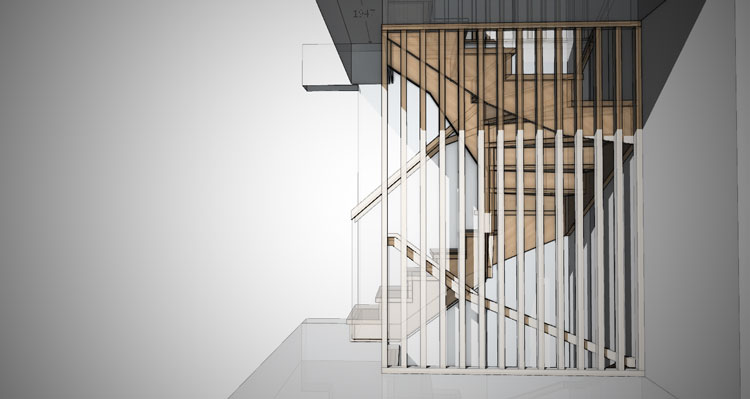 Konrad discovered StairDesigner about 8 years ago, when he was searching the internet for some stair manufacturing support and discovered one of the co-creators of Wood Designer, Ness's advice on how to create horizontal laminated curved stairs. He followed Ness's instructions for his own set of stairs, and found the methods used to be excellent and has been following Wood Designer ever since.
Konrad was able to make his StairDesigner purchase a couple years ago, and has been very happy with his decision. He has told us that:
We are very satisfied with the software. We have designed several dozen stairs since the purchase, so your product (has) helped us a lot. We are very grateful for that.
We're so happy to help Konrad and thank you for sharing your story!
Click here to find out more about our stair designer software, and if you'd like to know more about Konrad's business in Poland, please visit his website CAMFORM.