The PolyBoard manual is available from our website as a series of written and video tutorials, plus a downloadable guide covering PolyBoard's Quick Design libraries.
Here is a quick overview of the manual content and how to access it and get started fast with the software:
Help Centre resources
Click here to view all PolyBoard tutorials that are on our website.
This guidance is split into the following themes:
Essentials guide
How to install PolyBoard and initial set up like units and language
Single cabinet vs multi cabinet mode
Interface navigation and basic design
Introduction to the Quick Design libraries and manufacturing methods
Recommended workflows
Extended features
Advanced design features for complex cabinet geometries
Hardware and libraries management
Multi material panels, frame and panel assemblies
Handles, specialist fittings and other 3D accessories
Non CNC output options
Cut list and part by part plans
Dimensioned drawings
3D renders and output
OptiCut integration
Labels
CNC integration advice
Types of CNC integration
Post processor set ups
OptiNest integration
Nesting vs point to point CNCs
Downloadable PolyBoard libraries guide
This downloadable manual focuses on the Quick Design libraries that come with PolyBoard. These libraries include a large range of popular hardware configurations, plus material, drawer, door, edging and other design and manufacturing configurations.
Please make sure you use PolyBoard in conjunction with our libraries to ensure an efficient and powerful workflow.
The Quick Design libraries manual is available as part of the Quick Design libraries download, available on the same page as the PolyBoard software download.
Once you've downloaded the libraries, navigate to the Guides sub-folder to view the manual: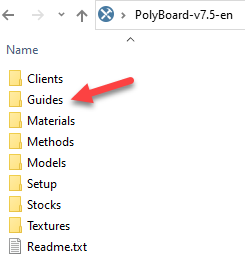 Support and training options
We offer a range of support and training options to ensure you get the most out of PolyBoard.
Please also click here to see what support is included with your software order.